PERTH, (Reuters) – Having sent Australia crashing to  the canvas in Adelaide, England will hope to land a knockout  blow to their punch-drunk former tormentors when the third Ashes  test gets underway in Perth today.
Victory at the WACA ground would see Andrew Strauss's team  bring the Ashes home for the first time since the Mike  Gatting-led triumph in 1986/87, while condemning Ricky Ponting  to becoming the first Australian captain in 120 years to lose  three Ashes series.
Ponting said England outbatted, outbowled and outfielded the  hosts in the second test in Adelaide, but the tourists, 1-0 up,  will need to defy recent history to stop the hosts squaring the  series.
England have lost their last five tests to Australia at the  WACA and, like most teams, have struggled to adapt to the  ground's traditionally quick pitches.
Their last win at the WACA came in 1978, when the Mike  Brearley-led side defeated an Australian team gutted by World  Series Cricket.
"If Australia were wounded in Adelaide and have a point to  prove they're going to be that much harder to beat and we've got  to counter that," Strauss told reporters yesterday.
"Australia's record here is very good, so that suggests that  they're better at adapting to these conditions than other teams. "I think that's a great opportunity to show that we're a  better side than we used to be. We've got to be just as  desperate as Australia because if we're not we'll come unstuck."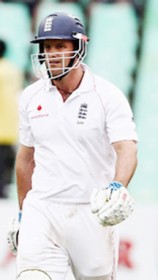 England's innings and 71-run victory in the second test  helped erase some demons from their disastrous tour in 2006/07  when they were whitewashed 5-0, but more bitter memories linger  at Perth where the Australians handed out a 206-run thrashing to  wrest back the Ashes before Christmas.
The ruthless attack led by paceman Glenn McGrath and Shane  Warne is long gone, however, and calls by local pundits in  recent days to coax the 41-year-old legspinner Warne out of  retirement to "save" the Ashes have only magnified Australia's  bereft bowling stocks.
Underlining the home side's desperation, selectors are  likely to slot Mitchell Johnson straight back into the side  after he was dropped following his wayward performance in the  first test in Brisbane where he conceded 170 runs without taking  a wicket.
The 2009 ICC Cricketer of the Year has spent two weeks  toiling in the nets following Brisbane but has already been cast  as a potential saviour at the WACA where he took his best haul  of 8-61 against South Africa in late 2008.
The selectors also raised eyebrows by naming Michael Beer in  their 12-man squad, a left-arm orthodox spinner with only five  first class matches under his belt, as a potential replacement  for the dropped Xavier Doherty.
Phillip Hughes, who was bullied out of the Australian side  by England's seamers on tour last year, has replaced the injured  Simon Katich as opening batsman, while all rounder Steven Smith  has replaced Marcus North at number six. Ponting, battling growing speculation that his days as  captain are numbered, dismissed the notion that Australia's  younger lineup would struggle against England's more settled  side.
"It's not so much that we're picking young guys to come in,  we're picking our best players," Ponting said.
"The selectors feel Steve Smith is our next best No.6  batsman and Phil Hughes is our next best opener so that's why  we've made those decisions."
While Australia's selection policy has resembled a revolving  door, England are expected to make only one forced change to  their side to replace the injured Stuart Broad.
The 2.01m tall paceman Chris Tremlett is favoured to replace  Broad to exploit bounce on a grassy wicket that could also  provide some turn for Graeme Swann as it wears.
Despite an abridged preparation after flying home for the  birth of his daughter, James Anderson will lead the attack with  support from fellow quick Steve Finn.
Hot dry conditions are forecast throughout the Perth test,  where the "Fremantle doctor", an afternoon sea-breeze that lands  around the tea-break like clockwork, tends to add another  interesting dimension.
The pitch's grassy conditions have seen both sides delay  naming their final 11 until just before the test starts.  Ponting, who will turn 36 on day four of the test, should it  last that long, said the track could ultimately seal the hosts'  Ashes fate and perhaps also that of his captaincy.
"Looking at this wicket you'd think that there's going to be  a (winning) result in this game, so obviously that has to be a  positive one for us or it's game set and match," he said.

Probable teams:
England – A. Strauss, A. Cook, J. Trott, K. Pietersen, P.  Collingwood, I. Bell, M. Prior, G. Swann, J. Anderson, S. Finn,  C. Tremlett.
Australia – Shane Watson, P. Hughes, R. Ponting, M. Clarke,  M. Hussey, S. Smith, B. Haddin, R. Harris, B. Hilfenhaus, M.  Johnson, P. Siddle.
Around the Web