It was a terrific start to the 21st edition of the Kashif and Shanghai Football Tournament when two teams progressed to the quarterfinal round and two others  exited the tournament on Wednesday night at the Georgetown Football Club ground.
In the feature matchup, BK International Western Tigers played intense football to make a good start to the defence of their title by defeating Buxton United 3 – 2 in a nail-biting encounter. Prior to that match, Bartica's Liquid Gold survived an intense battle to defeat the opposition 4 – 3 on penalty kicks.
The feature match had the Western Tigers squad commencing the matchup in solid attacking mode and  they were able to score as early as the seventh minute when Gideon Payne followed-up on a shot taken by fellow striker Nedd Fraser that was denied by the custodian.
Tigers played a well-composed 45 minutes at first, displaying good ball control and possession to keep up a  relentless assault on the goal spearheaded by  Payne and Fraser.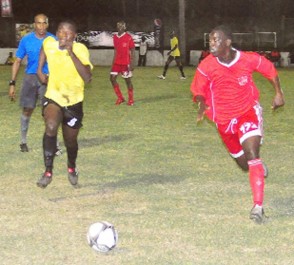 Buxton United coach Mark Wade had stated that confidence boosts the side,  and so the team's hopes were not dashed by the goal scored against them. They supported their unflustered striker Clive Andries who gave the Western Tigers' goal keeper and defence a bit of trouble early on with some close chances.
Tigers went ahead by two goals at the stroke of half time when Fraser was fouled in the 18-yard box and the referee awarded them a penalty. The penalty was scored by defender Sherman David as the half ended with Buxton down by two goals and yet to score.
When the game resumed Gideon scored in the 51st minute to make it a three-goal lead for the eventual victors.
However, Buxton played a completely different game with more urgency about their movements and pulled one back when Andries stormed down the right flank and comfortably pushed the ball past the advancing goal keeper.
Orson Washington pierced the Western Tigers goal in the 63rd minute to make it a one-possession game but Tigers were able to keep them at bay for the remainder of the game although they had been beaten all ends up but Buxton were unable to finish. Earlier in the night Riddim Squad and the Bartica team contested a see-saw battle for 120 minutes and yet   neither team was able to score.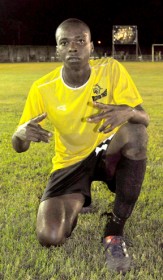 The day before the encounter, assistant coach Lloyd Millington told Stabroek Sport that the Riddim Squad weakness was not being able to finish and it was clearly displayed in the encounter as they wasted  numerous opportunities to score.
On the other hand Liquid were solid in the midfield and striking areas but were often broken down by Riddim Squad's resolute defence.
In the dreaded penalty shoot-out, the Liquid Gold squad held their nerve to score four of the five attempts while Riddim Squad scored three and squandered the other two because their attempts were way off the mark.
Around the Web