PERTH, (Reuters) – England tightened their grip on  the Ashes yesterday, ripping out Australia's top order cheaply  and dismissing the hosts for 268 on day one of the third test.  
England's seamers blasted through the first four batsmen for  36 runs during a fiery morning session before Australia fought  back bravely as the greentop pitch flattened out under a baking  hot sun at the WACA ground.  
Openers Andrew Strauss, on 12, and Alastair Cook, 17,  survived the last 12 overs to see England to 29 for no loss at  stumps, a strong position as they seek the victory that would  ensure they retain the Ashes.  
Free-swinging tail-end cameos by pacemen Mitchell Johnson  and Peter Siddle delighted home fans, but served to underline a  missed opportunity by Australia's top order to weather the early  attack and build a big total.
  
"I don't think it's (the total) as below par as some people  would think," Mike Hussey, the only top-order batsman to survive  England's early onslaught, told reporters. 
 
"I've played in quite a few test matches here where the  first innings totals have been in the mid-200s, so I guess  tomorrow will tell the tale if we're below par or not.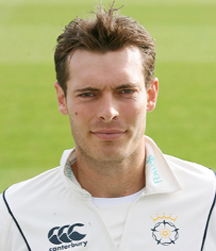 "It was pretty tough (early) but I thought as the ball got  older and the moisture came out of the wicket it probably  settled down a little bit more and played a bit more true,"  added Hussey, whose 61 was his third half-century after he made  195 in the first test in Brisbane.  
Having lurched to 12 for three in the first 15 minutes,  Hussey's 68-run stand with wicketkeeper Brad Haddin lifted the  hosts to 179 for six at tea.  
Johnson, recalled after being dropped for the Adelaide test,  continued the lower order rally in a slog-frenzy with Siddle who  finished unbeaten on 35 as the tail added 89 runs in the final  session.  
England fast bowler James Anderson struck in the fourth over  after tea when wicketkeeper Haddin, on 53, nicked a thick edge  to Graeme Swann who took a smart catch at slip. 
 
Anderson bowled Ryan Harris for three in his next over  before Johnson celebrated a brave half century.  
   
 PULL SHOT  
Johnson's heroics were halted by Steve Finn, however, who  dismissed the paceman for 62 after enticing him into a poorly  hit pull shot straight to Anderson at square leg.  
Spinner Swann dismissed Ben Hilfenhaus for 13 for his second  wicket, caught by Cook at short leg to leave Siddle stranded.  
Chris Tremlett earlier capped a brilliant return to the test  team by removing Steve Smith for seven shortly after lunch for  his third wicket to leave Australia reeling on 69 for five.  
The tall fast bowler dismissed the notion that England had  let the Australians off the hook.  
"A couple of their guys did play well," said Tremlett, who  replaced the injured Stuart Broad in the team for his first test  in more than three years.  
"The wicket flattened out and the ball did get a bit softer,  so we're just trying to stick to our plans and toil away."  
Swann, called in to give the seamers' relief as the  temperature soared above 30 degrees Celsius, was carted for  three boundaries by the enterprising Haddin in his first over  but responded by having Hussey caught behind for 61 just before  tea. 
 
Australia trail 1-0 in the five-test series and already  appear to be in survival mode with England needing victory in  Perth to take an unassailable 2-0 lead in the series and ensure  they take the Ashes home for the first time in 24 years. 
 
Strauss landed the first psychological blow by winning the  toss and the call to put Australia in proved correct as Tremlett  bowled Philip Hughes with his sixth ball, then removed Michael  Clarke for four. 
 
Anderson clinched the key wicket of Ricky Ponting for 12  after the struggling Australian captain nicked a shot to third  slip where Paul Collingwood dived high to his right to take a  superb one-handed catch. 
Finn compounded the hosts' misery by dismissing Shane Watson  lbw for 13 shortly before lunch after landing a yorker plum on  the opening batsman's toe in a decision confirmed by TV review.  
Scoreboard
Australia first innings  
S. Watson lbw b Finn                                                          13  
P. Hughes b Tremlett                                                           2 
R. Ponting c Collingwood b Anderson                         12 
M. Clarke c Prior b Tremlett                                               4  
M. Hussey c Prior b Swann                                               61 
S. Smith c Strauss b Tremlett                                             7
 B. Haddin c Swann b Anderson                                      53  
M. Johnson c Anderson b Finn                                       62  
R. Harris b Anderson                                                            3  
P. Siddle not out                                                                   35 
B. Hilfenhaus c Cook b Swann                                          13               
Extras (lb-3)                                                                             3  
Total (all out, 76 overs)                                                   268  
Fall of wickets: 1-2 2-17 3-28 4-36 5-69 6-137 7-189 8-201  9-233 10-268  
Bowling: Anderson 20-3-61-3, Tremlett 23-3-63-3, Finn  15-1-86-2, Collingwood 2-0-3-0, Swann 16-0-52-2.  
   
England first innings  
A. Strauss not out                                                             12                 
A. Cook not out                                                                17  
Extras                                                                                    0                  
Total (no wicket, 12 overs)                                        29  
To bat: J. Trott, K. Pietersen, P. Collingwood, I. Bell,  M.  Prior, G. Swann, J. Anderson, S. Finn, C. Tremlett  
 Bowling (to date): Hilfenhaus 4-2-5-0, Harris 4-1-16-0,  Siddle 2-1-4-0, Johnson 2-1-4-0.
Around the Web