In her first event, Goodwill Games gold medalist Brittany van Lange was able to produce a new personal best in the 100m freestyle while compatriot Ronaldo Rodrigues bettered his time in the 50m freestyle yesterday on the second day of the FINA (International Swimming Federation) World Championships (25m) in Dubai.
Van Lange swimming out of lane three of heat four of the women's 100m freestyle event finished the race fifth in a time of 1:02.56, surpassing her qualifying time of 1:03.21. There were 89 participants in the event and van Lange placed 68th.
However 55 minutes later van Lange was unable to  better her qualifying time in the 50m butterfly event. She recorded a time of 35.29 seconds to finish last in heat three of the women's 50m butterfly event, while her qualifying time was 33.86 seconds. In  this event, van Lange finished 71st overall out of 75 contenders.
And it was another unfortunate performance for van Lange when she took on the championships women's 100m Individual Medley. Finishing in 1:20.98s, van Lange was 64th overall out of 66 entrants in the event. She  swam out of lane 5 in heat one.
For Rodrigues, swimming in his third event at the competition he did 26.40 seconds to attain a personal best in the men's 50m freestyle event. Contending against 136 participants for the ultimate achievement, his timings only saw him finishing at 101, after he touched the wall sixth in his heats.
Rodrigues will continue Guyana's quest for honours today when he takes to the pool for the men's 50m butterfly and 200m breaststroke events.
 In the butterfly event Rodrigues will be swimming out of lane seven in heat four coming off a qualifying time of 29.29 seconds, while in the 200m breaststroke he'll be in heat two swimming out of lane two.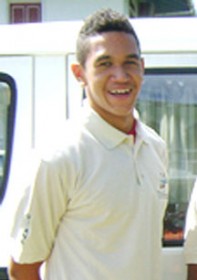 Meanwhile van Lange will be on show in the women's 400m freestyle event today where she'll be in lane two of heat one starting with a qualifying time of 5:04.32.
Around the Web