PERTH, (Reuters) – Mercurial paceman Mitchell Johnson  rediscovered his lost form to help Australia skittle England for  187 and wrest back the initiative on a pulsating second day of  the third Ashes test yesterday. 
Swinging the ball into the right-handers at high pace,  Johnson smashed through England's top order. He then cleaned up  the tail to finish with 6-38 in a brilliant return after he was  dropped for the second test in Adelaide following a wayward,  wicketless display in the opener in Brisbane.  
At the close Australia were 119 for three, an overall lead  of 200. The hosts are battling to level the five-test series and  prevent England from becoming the first English team to take the  Ashes home in 24 years. 
"I didn't really get too down on being dropped. Obviously I  was disappointed at the time when I find out but I knew I had to  work on a few things and that's what I did," said Johnson.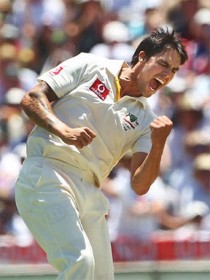 After England raced to 78 without loss in reply to  Australia's 268, Johnson induced Alastair Cook (32) to miscue a  drive straight to Michael Hussey at gully, then trapped Jonathan  Trott for four and Kevin Pietersen lbw for a duck.  
Johnson grabbed his third lbw by dismissing Paul Collingwood  for five then celebrated his fifth and sixth wickets by bowling  Chris Tremlett for two and getting James Anderson caught for a  duck.  
Ryan Harris finished with 3-59 after dismissing England  captain Andrew Strauss for 52, Ian Bell (53) and Graeme Swann  for 11.  
The England pace bowlers struck back after their batsmen had  conceded an 81-run lead.  
Steve Finn removed Phillip Hughes for 12, coaxing a nick  from the 22-year-old opener that went straight to Paul  Collingwood's safe hands at third slip.
  
He then had Ricky Ponting caught behind for one with the  struggling Australian captain feathering a catch off his glove  to wicketkeeper Matt Prior.  
 
Michael Clarke smashed four boundaries in an aggressive  20-run cameo but undone himself by chasing a Chris Tremlett  delivery onto his stumps as Australia wobbled on 64-3.  
Clarke's dismissal brought the hosts' serial rescuer Hussey  to the crease and the 35-year-old left-hander proved rock-solid  again, adding an unbeaten 24 in a 55-run stand with opener Shane  Watson (61 not out).  
SCOREBOARD
 Australia first innings 268 (M. Johnson 62, M. Hussey 61, B.  Haddin 53)  
England first innings (overnight 29-0)  
A. Strauss c Haddin b Harris                                          52  
A. Cook c Hussey b Johnson                                          32  
J. Trott lbw b Johnson                                                        4  
K. Pietersen lbw b Johnson                                               0  
P. Collingwood lbw b Johnson                                         5  
I. Bell c Ponting b Harris                                                  53  
M. Prior b Siddle                                                                  12  
G. Swann c Haddin b Harris                                             11  
C. Tremlett b Johnson                                                         2  
J. Anderson c Watson b Johnson                                   0  
S. Finn not out                                                                         1  
Extras (lb-4, w-1, nb-2, b-8)                                           15  
Total (all out, 62.3 overs)                                             187  
Fall of wickets: 1-78 2-82 3-82 4-94 5-98 6-145 7-181 8-186  9-186  
Bowling: Hilfenhaus 21-6-53-0 (nb-1), Harris 15-4-59-3  (w-1), Siddle 9-2-25-1 (nb-1), Johnson 17.3-5-38-6.  
   
Australia second innings  
S. Watson not out                                                       61  
P. Hughes c Collingwood b Finn                          12  
R. Ponting c Prior b Finn                                          1  
M. Clarke b Tremlett                                               20  
M. Hussey not out                                                   24  
Extras (nb-1)                                                                1  
Total (for three wickets, 33 overs)                 119  
Fall of wickets: 1-31 2-34 3-64  
To bat: B. Haddin, S. Smith, M. Johnson, R. Harris, P.  Siddle, B. Hilfenhaus.  
Bowling: Anderson 11-5-25-0, Tremlett 9-2-20-1, Finn  9-1-48-2 (nb-1), Swann 4-0-26-0.
Around the Web