He said that cricketers have a responsibility to themselves, their clubs and the teams they represent and therefore development needs to be holistic.Juman-Yassin was at the time delivering the feature address at the Guyana Cricket Board Awards Ceremony at the Umana Yana Wednesday night.
He told the cricketers that they must appreciate that they are part of a team and must act accordingly to ensure its success.
"Stay away from contentious and rowdy persons and more so from those types of persons who may be in your club as they are not good for your peace of mind and stability. You must show commitment, discipline and respect and imagine and picture yourself as outstanding."You must try and elevate yourself: read and inform yourself of what is happening and become computer literate. You need brains to plan and execute the strategy to be successful," Juman-Yassin advised.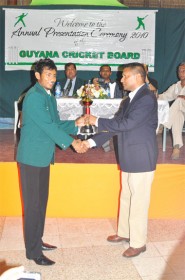 According to Juman-Yassin, a player should not be selfish and he should appreciate what is being done for the team. He also urged that they give of their time and energies in any way possible.Juman-Yassin also recommended 10 ways to become successful and turn dreams into reality: 1) "Always be positive – think success and never failure, beware of a negative environment; 2) Decide on your dreams and goals – write down your specific goal and develop a plan; 3) Take action – goals are nothing without action, just do it; 4)Never stop learning; 5) Be persistent and work hard – success is a marathon not a sprint; 6) Learn to analyse details; 7) Don't waste your time and money, do not let people and things distract you; 8) Be different; 9) Deal and communicate with people effectively – no man is an island, learn to understand and motivate others; 10) Be honest – take responsibility otherwise numbers one to nine will be of no use."
Juman-Yassin, a practicing attorney-at-law and former chief magistrate,  also asked the cricketers to project their life after cricket since this will be the period that can prove challenging. He told them to start planning since they know not "what the future holds" and therefore said it was imperative "that you get a good education, profession or learn a trade. "Be respectful to all and make contacts that may be useful to you in the future. Save your money and do not be carried away by glory and riches since these can disappear overnight; do not burn your bridges as you'll never know when you will have to cross that path again," Juma-Yassin advised.
He reminded the gathering that the onus was on oneself to control what happens in the future and therefore one should stand firm to their responsibility.  He also quoted snippets of the Sexual Offences Act and told the cricketers that the enforcement of the act has far reaching implications for all, including sportsmen, if one was to be found guilty. Juman-Yassin told administrators to secure a copy of the document to educate their charges on its content.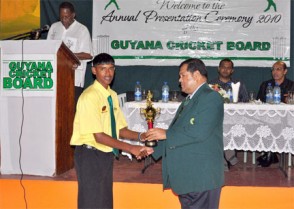 Leg-spinners Devendra Bishoo and Amir Khan were named the senior and junior Cricketers-of-the-Year at the awards ceremony. Bishoo had an outstanding year which saw him participating in the Airtel Champions League tournament in South Africa where he snared the prized scalp of India's batting star Sachin Tendulkar when Guyana's Amazon Conquerors played the Mumbai Indians.
He was also named the senior regional Cricketer of the Year and received the Clive Lloyd Trophy.
Khan, apart from being adjudged junior Cricketer-of-the-Year, was also named the West Indies U-19 Bowler-of-the-Year for his 27 wickets. Shemaine Campbelle got the nod as  female Cricketer-of-the-Year while Royston Crandon was voted the domestic senior Cricketer-of-the-Year.
Rajindra Chandrika was voted the Most Improved Cricketer while Rose Hall Town Youth & Sports Club received the Club-of-the-Year award.
Around the Web