Guyana's Goodwill Games gold medalist, Britany van Lange, and team mate Ronaldo Rodrigues won their respective heats of the women's 50m freestyle and men's 50m breaststroke events yesterday at the FINA (World Swimming Federation) World Championships (25m) in Dubai, United Arab Emirates.
According to reports from the meet's website, Rodrigues, swimming out of lane five in the third of 12 heats, was the first to touch the wall and he finished the race in a new personal best time of 32.14 seconds.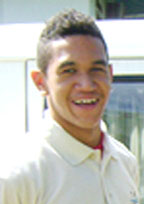 Rodrigues, though, finished with an overall ranking of 67 of the 92 persons who participated in the event.
Van Lange too recorded a new PB in winning heat four of seven heats. Swimming out of lane six, van Lange covered the distance in 28.58 seconds.
Her timing saw her ranked 70 overall of the 101 persons who entered the race.
The event was won by Ranomi Kromowidjojo from the Netherland Antilles in 23.71 seconds.
Van Lange also participated in the women's 50m backstroke event where she finished in 36.91 seconds.
Rodrigues churned out new PB when he participated in the men's 100m freestyle and 100m Individual Medley events.
In the 100m freestyle Rodrigues finished fifth in his heat but compensated with his new PB of 57.64 seconds.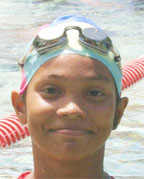 For the individual medley, Rodrigues entered without a seed time and finished the race in 1:07.76s.
Rodrigues came up against eventual winner Ryan Lotche of the United States of America. Lotche also entered the individual medley unseeded but won the event in 50.81 seconds.
Rodrigues' participation in the championships ended yesterday while van Lange's will end today when she takes to the pool for the women's 200m freestyle event.
Around the Web