The `A' and `B' chess teams from St. Stanislaus College are in the lead after three completed rounds of the national Schools Chess Champion-shsips which commenced yesterday at the Carifesta Avenue Sports Complex on Carifesta Avenue.
Both teams are on three points each while Queen's College "A" follows with two and one half points.
Five schools, Queen's College "C",  Mackenzie High "A" and "B", Bartica Secondary, and West Demerara Secondary "A" teams are all on two points each.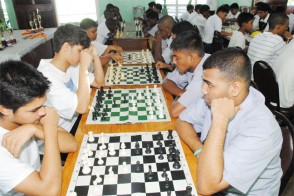 In the individual competition, Richard Ishmael's Saeed Ali, St Stanislaus College's Rhys Duff and North Georgetown's Sue-Hai Feng are in the lead with three points each after three completed rounds.
Following close behind are Winfer Gardens Primary school student Sheriffa Ali,who has two and one half points.
The 10-year-old Ali is one of only three primary school students who are taking part in the tournament.
In the team's competition, which comprises four students per team, St Stanislaus "B" earned their first points after defeating Marian Academy "A" team 4-0.
The St Stanislaus "B" team is headed by national junior chess champion, Ron Motilall with the other players being Neil Gordon, Carlos Jordan and national junior scrabble champion, Ashwant Satamand.
The Marian Academy "A" team comprises national junior lawn tennis player, Judah Stephney, Andrew Fileen, Khalid Gajraj and Daniel Simbo.
St Stanislaus "B" also defeated Queen's College "B"  by three  and one half points to halp a point.
In their final match of the day they trounced  Queen's College "C", which comprises Alexander Brassington, Badrie Persaud, Shane Rampertab and Vickram Pattiram 4-0.
In the Motilall/Brassington encounter, Brassington defended well but blundered in the middle game allowing Motilall to establish a bishop pair and subsequently a mating attack.
Jordan played Rampertab, who blundered a knight in the opening and a bishop in the middle game as he tried to defend his position and he was subsequently unable to prevent checkmate in one in the end game.
Other notable chess players taking part in the tournament include 2009 national junior chess champion Cecil Cox, who is representing Queen's College "A"; Raan Motilall who is West Demerara Secondary's leading player and Rashad Hussain, who is playing for  Mae's Secondary alongside Shane Yussuf.
According to Tournament Director, Irshad Mohammed almost 100 students are participating in the annual event.
Twenty seven students have entered the individual competition while some 17 teams are participating in the teams' competition.
The event was declared open yesterday morning by the Minister of Culture, Youth and Sports, Dr. Frank Anthony and is being sponsored exclusively by the Ministry of Culture, Youth and Sports.
In his address Dr Anthony said that he was pleased to see so many schools turning out for the tournament as in prior years only a few elite schools play the game of chess. The Minister said that he hopes to have students from all 10 administrative regions participating in next year's tournament.
Dr Anthony expressed gratitude to those students that turned out at the tournament and encouraged them to do their best.
The competition continues today with four more rounds expected to be completed. Competition starts from 9am at the same venue.
Around the Web