PERTH, (Reuters) – A defiant Australia regained   their traditional Ashes swagger in Perth yesterday, routing  England by 267 runs to level the series while hailing the  momentum-swinging return of their mercurial pace bowler Mitchell Johnson.
Australia mowed through England's last five batsmen for only 42 runs, giving the hosts nearly two days to savour their  third-test victory and some 16,000 spectators at the WACA   ground more free time than they may have planned for.
The astonishing turnaround in form following Australia's  humiliating innings and 71-victory loss in Adelaide was the  perfect gift for embattled Australia captain Ricky Ponting,   who celebrated his 36th birthday yesterday.
"No better birthday present than that, winning an Ashes  test match," said Ponting.
"We got a nice old hiding in Adelaide last week and to be able to bounce back as dramatically and drastically here says  a lot about us and where we're at right at this moment in the   series.
"I think now England might just start to have a bit of a  look at one — their team make-up for Melbourne and two — the  sort of cricket they play to have to beat us."
Australia limped into Perth with an under-fire attack that  had been blasted for 1,137 runs for only six wickets in their  previous two innings, but their quartet of pace bowlers led by  the talismanic Johnson destroyed England's top order twice in Perth.
CUT THROUGH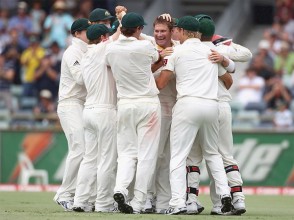 Man-of-the-match Johnson was particularly devastating, firstly with the bat when he slogged a top-scoring 62 to help  the hosts cobble a defendable first innings total of 268.
He then cut through the English batsmen claiming a six-wicket haul that fired up his fellow seamers to skittle  the tourists for 187.
The match-winning performance for a bowler who thrives on  confidence and can be dreadfully wayward when bereft of it,  not only set up the victory but was the perfect response to   critics who had questioned his place in the side.
It was also a smart riposte to the England players who had sought to remind him of his struggles during Australia's  losing Ashes tour last year with verbal potshots on the field of play.
"Mitchell's spell was unbelievable, probably one of the  odds-on great Ashes spells," Ponting said of the mercurial  pace bowler who was dropped after a wayward, wicketless spell  in the drawn first test in Brisbane.
After England resumed on 81-5, pace bowler Ryan Harris set about snuffing the tourists' faint hopes by bowling night-watchman James Anderson for three in his second over.
The 31-year-old then trapped Ian Bell lbw for 16. With  nothing to lose, Bell requested a review but the replay showed  the ball would have crashed into middle stump.
Harris then had Matt Prior nicking an edge to gully three  balls later where Mike Hussey capped his brilliant test match  with the bat with an acrobatic catch, diving to his right to   dismiss the England wicketkeeper for 10.
Johnson picked up his ninth wicket of the match when he  had Graeme Swann play onto his stumps for nine.
The late-blooming Harris then removed Steve Finn, the  quick edging to Steve Smith at third slip to seal the win and  post his best innings figures of 6-47 in his fourth test.
The test was special for another old-stager in Hussey, who  stroked a sparkling century to anchor Australia's second  innings of 309, even as his batting partners tumbled like   dominoes on day three.
The 35-year-old had said he was one poor score from being  permanently retired before the first test in Brisbane but  boasts 517 runs for the series, with his lowest score a 52 in   Adelaide.
Strauss took some solace from the performance of Chris Tremlett whose return to the test side after a three-and-a-half year absence yielded eight wickets, including a career-best haul of 5-87.
SCOREBOARD
Australia first innings 268 (M. Johnson 62, M.Hussey 61,   B. Haddin 53)
England first innings 187 (I. Bell 53, A. Strauss 52; M.   Johnson 6-38)
Australia second innings 309 (S. Watson 95, M.Hussey 116;   C. Tremlett 5-87)
England second innings (overnight 81-5)
A. Strauss c Ponting b Johnson                           15
A. Cook lbw Harris                                                   13
J. Trott c Haddin b Johnson                                31
K. Pietersen c Watson b Hilfenhaus                    3
P. Collingwood c Smith b Harris                        11
J. Anderson b Harris                                               3
I. Bell lbw Harris                                                     16
M. Prior c Hussey b Harris                                 10
G. Swann b Johnson                                                9
C. Tremlett not out                                                  1
S. Finn c Smith b Harris                                        2
Extras (lb-8, nb-1)                                                 9
Total (all out, 37 overs)                                123
Fall of wickets: 1-23 2-37 3-55 4-81 5-81 6-94 7-111 8-114   9-120
Bowling: Hilfenhaus 10-4-16-1, Harris 11-1-47-6, Johnson   12-3-44-3, Siddle 4-1-8-0 (nb-1).
Man of the Match: Mitchell Johnson (Australia)
Series level at 1-1 with two matches remaining.
First test (Brisbane)  – Match drawn
Second test (Adelaide) – England won by an innings and 71   runs
Third test (Perth)      – Australia won by 267 runs
Fourth test (Melbourne) – Dec. 26-30
Fifth test (Sydney)     – Jan. 3-7
Around the Web