Corriverton Primary School was adjudged the best performing school at the Inter-School Christmas Mini-Tennis competition that ended Saturday.
The competition was played at Marian Academy and at the National Park.
Corriverton Primary dominated the beginners' category and was one win short of a clean sweep of all the titles in that category.
Corriverton Primary's Antonio February and Dacia Courtman won the boys and girls' 10 years and under category respectively.
Runner up among the 10 year and under boys was Corriverton Primary's Shemroy Steward while Marian Academy's Maya Collins was the female runner up.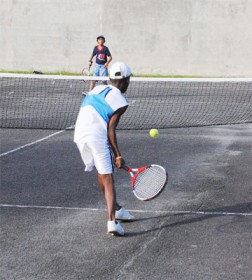 Danielle Belle captured another title for Corriverton Primary when she won the girls' 12 years and under category. However, Corriverton Primary missed out on the boys' 12 years and under title which was won by West Ruimveldt Primary's Akeem Daniels.
The students played in a round robin format to maximize the number of matches played.
In the boys' final February won against Tyrone Edwards, Steward and Odeon Beaton, while Steward defeated Edwards (7 – 4) and Beaton (7 – 6) to earn the runner up spot.
Courtman lost to Collins 5 – 6, before defeating Chantel Dey (6 – 5), and Ryanna Bentick (6 – 4).
The competition also featured an intermediate 10-and-under category.
Students from six of 13 primary schools that were scheduled to take part in the competition  participated in the tournament.
GLTA Junior Tournament Coordinator, Grace McCalmon, said she was very pleased with the performance of the Corriverton team where the mini-tennis programme was launched for the first time earlier this year with the help of the business community.
Around the Web