Former national junior chess champion Cecil Cox yesterday led the Queen's College `A' team to victory in the national schools chess tournament which ended at the Carifesta Sports Complex, Carifesta Avenue.
QC `A', in third position going into yesterday's  final day, fought back brilliantly to end with six points.
"We're overjoyed because we thought we were going to bring third, but we all pulled our socks up and each member performed when they needed to perform," Cox told Stabroek Sport yesterday.
"Our match against St Stanislaus 'B' is what really gave us the opportunity to win," he added.
The other members of the team were Elston Low, Devendra Singh and Kitfai Sue.
Cox said he attributed the team's comeback win to the input made by all of the players.
He said that he was happy that they were able to take QC to the championships since last year, the two teams representing the school placed fourth and eighth.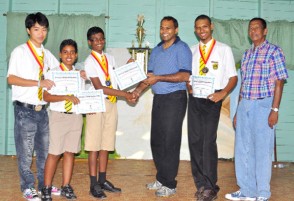 St Stanislaus College, the defending champions, had led after the first day's play but both teams `B' and `A' lost to QC `A' yesterday to occupy the second and third positions respectively.
North Georgetown Secondary's Sue-Hai Feng ruled the individual category.Feng played unbeaten throughout the seven round competition ending with the maximum seven points.
Feng told Stabroek Sport that he was very proud of his performance, particularly with this being his first year in the competition which commenced in 2008.
"I feel proud of my performance this being my first year at the competition, and even though I started out at third in competition [on Saturday] as the rounds progressed I started to pick up," Feng said.
Feng yesterday defeated Richard Ishmael's Saeed Ali, Winfer Garden Primary's Sheriffa Ali, Queen's College's Rhys Duff, and Mae's Secondary Daniel Desir.
Duff was mistakenly reported in yesterday's edition as representing St Stanislaus College.
Saeed Ali, who placed third last year, was second with six points while Sheriffa Ali with five points occupied the third position.
Joshua Pedro and Daniel DaSilva also ended with five points each however, the two respectively finished fourth and fifth through a tie break system.
In their opening game, QC 'A' and QC 'C' teams played to a 2-2 draw.
QC `A' then defeated St Stanislaus `B' by two and a half points to one and a half.
St Stanislaus `B' team included current national junior chess champion Ron Motilall but he was defeated by Cox in their board one battle.
In the match, Cox lost tempo early in the game but later Motilall blundered a piece during an exchange and he was unable to recover.
Other players on the St Stanislaus 'B' team included national junior scrabble champion Ashwant Satamand, Carlos Jordan and Neil Gordon. Satamand lost to Sue, after he blundered a rook in the opening and was mated with two rooks and a queen.
Jordan played to a draw against Low. He started off well but was put under pressure early and, faced with the prospect of having to give up his Queen in the middle game, settled for a draw.
Gordon saved some face for his side when he won his game against Singh. Singh blundered a rook and Gordon took advantage of the situation to win with three major pieces.
QC `A' also  defeated St Stanislaus `A' which comprised Owen Mickle, Davion Mars, Kevin Williams, and Aslam Hussain and West Demerara `A' team which was headed by active chess players, Raan Motilall, and Farad Baksh and included Meikel Mohabir and Ganesh Persaud.
St Stanislaus `B' won against their `A' team by two and a half points to one and a half and they  also defeated West Demerara `A' and Mae's Secondary's.
Games Master for St Stanislaus College, Uzzi Yisrael, said the teams' defeat was very disappointing taking into consideration how well they played on the opening day.
He said the defeats were mostly due to "strategic errors and not the players inability to play the game."
He, however, said that he was "satisfied with the overall performance of the teams."
At the end of the competition the winning teams were presented with their trophies and medals at the closing ceremony attended by Minister of Culture, Youth and Sports, Dr. Frank Anthony. All of the participants were presented with a certificate of participation for their efforts.
Around the Web