National player Moen Gafoor emerged overall champion of the Scrabble tournament organized by the Guyana Association of Scrabble Players at the Malteenoes Sports Club yesterday.
The competition featured two categories with prizes being awarded to the top three current national players and the top three non national players.
Gafoor won the current national player category while Rudolph Michael, who finished fourth overall, won the non national division.
Gafoor ended the six round competition, with five wins and a positive spread of 326 while Ulric Harris with four wins and a positive spread of 486 finished second.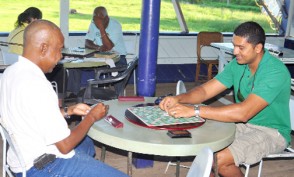 National champion, Fred Collins, with four wins and a positive spread of 203 was third.  In the other category, Julian Skeete was second with three wins and a positive spread of 51 while Colin Chichester captured third place with three wins and a negative spread of seven.
Gafoor gained 75 points in his opening game against Harris and he gained a further 129 points against Grace Hercules. He then defeated Skeete (57) before losing to Collins who gained 45 points with the win.
Gafoor, however, bounced back with wins against Orlando Michael (19) and Chichester (91).
Around the Web