CENTURION, South Africa, (Reuters) – Sachin Tendulkar scored his 50th test century yesterday but it looked unlikely to save India from losing the first test against South Africa.
Tendulkar had batted for five hours in scoring 107 not out, sharing a defiant seventh-wicket stand of 172 with captain Mahendra Singh Dhoni (90) as India reached 454 for eight wickets when a storm ended play on the fourth day at Centurion.
His landmark century, which came in 258 minutes and 197 balls of great composure and technique, had helped India reduce their deficit from 294 runs to 30, but the world's number one ranked team have just two wickets remaining.
Tendulkar, who is test cricket's leading run-scorer with 14,509 in 175 matches, and the most prolific century-maker, had  hit 13 fours, mostly through the off-side with classical strokes, and a six hammered straight back over left-arm spinner Paul Harris's head. Dhoni was in belligerent mood as he belted 14 fours in his 106-ball innings, before Dale Steyn's well-directed lifter forced the India captain to fend a catch which wicketkeeper Mark Boucher claimed just above his bootlaces.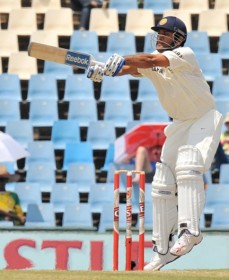 Tendulkar and Dhoni had been particularly daring against the second new ball as South Africa failed to take a wicket between lunch and tea.
Tendulkar, 37, went from 89 to 95 when he blasted Harris for  six and soon after notched his seventh century of the year.
He raised both arms and looked skywards with a broad smile  on his face, while the South African team provided warm applause  and the Centurion crowd gave him a standing ovation.
The hosts grabbed another wicket just before the close when  Harbhajan Singh (1) edged a low catch to slip off Harris,  putting Shanthakumaran Sreesanth at the crease with Tendulkar on  three not out.
Tendulkar's exploits took their toll on the South African  bowling figures, with spearhead Steyn having taken three for 103  in 27.2 overs, while Harris has claimed two for 88 in 30 overs.
DRAVID LANDMARK
Tendulkar and Dhoni batted through the second session as  India reached tea on 394 for six, still trailing by 90 runs.
India had lost three wickets for 35 runs to slide to 277 for  six at lunch, with South Africa taking the second new ball 2.1  overs after the break.
Earlier, India's Rahul Dravid became only the third batsman  to score 12,000 runs. He stubbornly denied the hosts for 161  minutes and 109 balls in scoring 43 runs that took his career  tally to exactly 12,000 runs in 255 innings.    Only compatriot Tendulkar and Australia's Ricky Ponting  (12,333) have scored more runs than 37-year-old Dravid.
It took a top-class delivery from Morne Morkel to eventually  dismiss Dravid. A back-of-a-length ball drew the batsman forward  and a slight deviation off the seam found the outside edge of  the bat and offered wicketkeeper Mark Boucher a simple catch.
India had resumed on 190 for two with Dravid on 28 and  nightwatchman Ishant Sharma on seven.     Ishant survived a chance on 15 when he gave Morkel a return  catch. But umpire Ian Gould suspected the fast bowler may have  bowled a no-ball and called for a television replay, which  confirmed Morkel had over-stepped.
Ishant added eight more runs to his score before Hashim Amla  nonchalantly snapped up a sharp catch at short-leg off Dale  Steyn.
South Africa ended the morning well on track for an innings  victory by snapping up two more wickets in the last five overs  of the session.
Vangipurappu Laxman (8), with his feet rooted on the crease, drove at left-arm seamer Lonwabo Tsotsobe and edged the ball to AB de Villiers at a wide third slip.
Suresh Raina (5) fell on the stroke of lunch, offering a simple catch to Harris at first slip as he played a short ball from Kallis with a dreadful angled bat outside off stump.
Scoreboard
India first innings 136 (M.Morkel 5-20)
South Africa first innings 620-4 declared (G. Smith 62, A.  Petersen 77, H. Amla 140, J. Kallis 201 not out, AB de Villiers 129)
India second innings
G. Gambhir lbw b Steyn                                  80
V. Sehwag c Smith b Harris                           63
R. Dravid c Boucher b Morkel                     43
Ishant Sharma c Amla b Steyn                   23
S. Tendulkar not out                                    107
V. Laxman c De Villiers b Tsotsobe           8
S. Raina c Harris b Kallis                                5
M. Dhoni c Boucher b Steyn                       90
Harbhajan Singh c Kallis b Harris                1
S. Sreesanth not out                                          3
Extras (b-13, lb-5, w-8, nb-5)                     31
Total (for eight wickets, 122.2 overs)   454
Fall of wickets: 1-137 2-170 3-214 4-242 5-256 6-277 7-449  8-450.
To bat: J. Unadkat.
Bowling (to date): Steyn 27.2-5-103-3 (w-1), Morkel  28-5-91-1 (nb-2, w-3), Tsotsobe 24-3-98-1 (nb-1), Harris  30-5-88-2, Kallis 13-3-56-1 (nb-2).
Around the Web