Guyana's Jessica Stephenson captured another gold medal while Olympian Niall Roberts bagged a silver medal at the Amateur Swimming Associa-tion of Trinidad and Tobago (ASATT) Invitational Swim Meet.
Stephenson grabbed the gold medal in the 100m breaststroke event while Roberts won his silver medal in the 50m freestyle event.
Another Guyanese,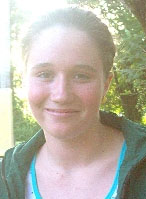 Soroya Simmons, ensured that she did not leave the meet without a medal when she placed third in the girls' 13 – 14 100m backstroke  clocking 1:17.67s.
The race was won by Tsunami Swim Club's Kristen Julien in 1:11.88s. Second went to Eagles Aquatics International's Chadae Thompson in 1:15.22s.
Marlins Swim Club, which Stephenson represented, won the Inter-Club meet by accumulating 1148.5 points.
The Guyana Combined Team accrued 71.5 points to end in the 13th position out of the 25 clubs that participated.
The Guyana Combined Team comprised Roberts, Jaime Jabar, Athena and Hannibal Gaskin, and Soroya Simmons.
Stephenson, swimming in the girls' 13 – 14 category, completed a clean sweep of the breaststroke events when she won the 100m breaststroke in a CARIFESTA "A" time of 1:17.13s.
This achievement saw Stephenson coming in almost seven seconds ahead of her closest rival and over four seconds ahead of the winner of the girls' 15 years and over category which was won by Rejan Chin in a time of 1:21.69s.
Stephenson, who resides in Trinidad, had already copped titles in the 200m and 50m breaststroke events on Friday and Saturday respectively.
She also participated in the 200m freestyle event where she placed 13th overall finishing in a personal best time of 31.07 seconds.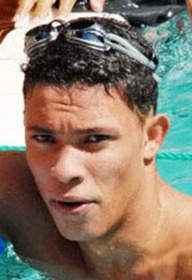 Roberts's silver medal came in 24.75s, a new personal best.
According to reports, Roberts was denied a gold medal by Trinidad's Strasser Sankar who finished the race in 24.07 seconds.
Also participating in  that event, Jabar produced a personal best of 27 seconds that saw him finishing in 14th position.
Guyana's only other male swimmer, Hannibal Gaskin, participated in the 11 – 12 years category. He participated in the 50m freestyle event where he placed 15th overall clocking 31.88 seconds. He then recorded a personal best time of 1:28.29s in the 100m breaststroke event where he placed ninth and in the 100m backstroke, where he placed 16th in a time of 1:25.91s.
Athena Gaskin finished 10th  in the girls' 13-14 years 100m breaststroke event with a time of 1:33.10s.
She fared better in the 50m freestyle where she finished ninth in a personal best time of 30.59 seconds.
She also participated in the 200m individual medley which she completed in 2:53.28s.
Simmons also placed 18th in the 50m freestyle which she completed in 33.14 seconds.
Another Guyanese participating at the event, Noelle Smith, representing her Trinidad Club U.W.I Swim Club, supported her team to a 2:07.11s third place finish in the girls' 15 years and over 200m freestyle relay.
With over 350 swimmers from the region and Sweden, the meet is considered the best individual and club meet in the region and Guyana's swimmers definitely made their presence felt.
Around the Web