President of the Guyana Volleyball Federation (GVF) Lennox Shuffler yesterday described the year 2010 as "interesting with a ray of hope."
"The year was interesting in a sense that after the first quarter of year which was fairly slow, clubs and teams made effort to do things," Shuffler told Stabroek Sport in an invited comment.
Shuffler was mainly referring to the True Champions Volleyball Tournament (TCVT) which ran from July – September.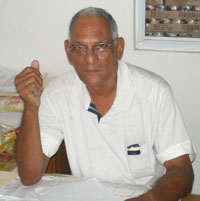 The TCVT was organized by the Castrol Strikers volleyball club with the blessing of the GVF and sponsored by oil companies, Tradewind Tankers and Guyoil.
Shuffler described the move by Castrol Strikers to acquire sponsorship for the eventually successful tournament as "excellent."
He added that the tournaments did not end there as the TCVT was followed by a tournament in Berbice hosted by the Guysuco Training School in Port Mourant which in turn was followed by the International Goodwill Volleyball Series organized by the Young Achievers volleyball club in collaboration with the GVF.
"I'm happy to see clubs coming forward and starting new things," said Shuffler.
The Goodwill Series which was contested over the weekend of November 27-28 was deemed a successful endeavor by Shuffler, since it featured an international volleyball team, Suriname's Lyzecks, in a locally held and organized tournament after a long while.
Shuffler said it was the desire of the GVF to make the Goodwill Series an annual event with additional overseas clubs, such as volleyball teams from Brazil.
"The Suriname visit was a good one because it restarted collaboration with Suriname in terms of volleyball and can lead to the start of an International Volleyball Festival, where we will be looking to incorporate Brazil," he said.
The GVF head also acknowledged the revival of the Berbice Volleyball Association under new president Gregory Rambarran.
"The Berbice association has been formed under Rambarran, who is good man and who will handle things very well," he noted.
As it relates to future plans, Shuffler indicated that there will be future cooperation between the GVF and the Sports Ministry, in conjunction with the National Sports Commission (NSC) to push the sport.
He disclosed that meetings have been held with those sports bodies to identify means to take the sport forward.
"After meetings with the Ministry of Culture, Youth and Sports and NSC it was agreed that the direction that was needed to be taken was to work towards community volleyball and school and beach volleyball," said Shuffler.
"The Sports Ministry has been including volleyball into their Days of Interactions throughout Guyana, which is helpful and identified areas where clusters of volleyball players are," Shuffler added.
He related that after a visit to the Volleyball World Congress, hosted by the International Volleyball Federation last September in Italy, it was pinpointed by the International Federation that assistance will be granted to countries  such as Guyana whose volleyball standard is at level one.
According to Shuffler, although a period for the start of the promised assistance from the International Federation has not been disclosed, a request has been submitted by the GVF for assistance for school tournaments, which "had a positive response so far."
On administrative matters, Shuffler stated that the GVF elections are scheduled for early in the new year.
Shuffler, however, said he was unsure about running for the post once more.
"With the advent of the Berbice Association and affiliated clubs, we are in a position to hold elections next year… we want to do that by mid January as soon as the Christmas season is over," he said.
"I would prefer if there is new blood that could come forward and fill the gap because change is good for new innovation and new drive… if not I will give my services," he declared.
He added that even if there is a new president of the federation he "will always be in volleyball."
"I'm sure they can find someone to run with it [GVF] and fill that gap which I will be happy to see, but I don't want to leave it [GVF] wild because my whole intention is to see that volleyball retains its footing," Shuffler said.
Around the Web