GEORGETOWN, Guyana, CMC – Guyana captain Ramnaresh Sarwan says his side will be focused on repeating their success in next month's Caribbean Twenty20 Championship, to prove to detractors they were worthy champions of the 2010 showpiece.
Guyana captured the inaugural event last August when they beat Barbados in a tense final in Trinidad and Tobago, a victory that gave them a place in the lucrative Airtel Champions League T20 tournament in South Africa.  They subsequently lost every game in that tournament, drawing criticism from some quarters they were not fit to represent the Caribbean.  Sarwan, who led the side in both tournaments, said the unit was undergoing intense preparation for their title defence.
"We have being doing a lot of physical stuff and the guys are actually enjoying these sessions," said the 30-year-old.
"The attitude to the training has been excellent form everyone and we are getting stronger physically and mentally as a unit. We are the defending T20 Champions and we know everyone will be gunning for us after we qualified for the Champions League in South Africa this year. We want to prove our win was no fluke."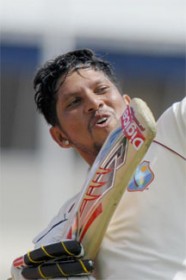 Not rated as a favourite prior to the CT20, Guyana breezed through the preliminaries before upsetting the favoured Trinidad and Tobago in the semi-finals and trouncing Barbados by one wicket with a ball to spare in the final.
This year, they have been hit by the loss of the experienced Narsingh Deonarine to injury but have recalled Sewnarine Chattergoon to fill the void, a move Sarwan said will affect the batting order.
"When we opted to leave Chattergoon out it was with the thinking that Shiv (Shivnarine Chanderpaul) could open and bat through the innings but now we will have to adjust," the discarded West Indies batsman said.  "Losing Deonarine's experience creates an impact in the middle order and now either or Shiv or I might have to bat at [number] four since we don't want to leave too many inexperienced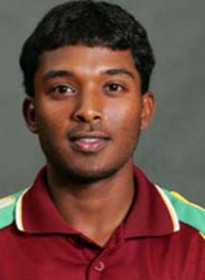 players at the bottom of the innings.  "T20 is a fast paced game and you have to be thinking all the time. Hopefully we would have learned from South Africa and we have to remain positive without being reckless.   "The senior batters will have to pull their weight and I think we have a decent bowling attack especially with (Veerasammy) Permaul back to join (Devendra) Bishoo."
Sarwan said Guyana would be using the Cricket Festival T20 series in T&T from December 27-30 to refine their balance and strategy.
"We have not had much cricket as a team and we have a couple of new players in the mix so Trinidad will be great for us to try and get our
combinations right and see the new players in a match situation before we play in the Caribbean T20," he explained.
Around the Web