ORLANDO, (Reuters) – The Orlando Magic ended a poor   run of form by surging to a 123-101 victory over the San Antonio   Spurs on Thursday, the stunning triumph snapping the visiting   team's 10-game winning streak.
The Magic outscored the Spurs 30-2 on fast-break points to    win for the first time in five games and for just the second   time in their last 10 contests.
"It just feels good to see everybody on the same page,"   Orlando's Dwight Howard told reporters.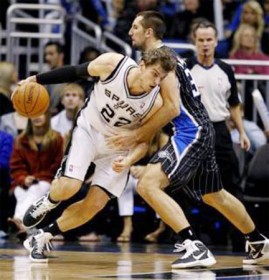 "Knowing that this is the way we have to play to be   successful and for us to try and do it for 48 minutes."
Howard led the Magic with 29 points and 14 rebounds, while   forward Brandon Bass and reserve guard J.J. Reddick each added   17 points.
Howard, a four-time All-Star, sank 11-of-13 shots from the   floor, 7-of-12 from the line, and had three blocks.
Newly acquired Gilbert Arenas led the team with nine   assists and added 14 points, including seven in the second   quarter.
"I thought he (Arenas) made probably the biggest   difference, scoring a bunch of points," Spurs center Tim   Duncan said.
"He came in and shot the ball well and extended that lead   for them."
Point guards Tony Parker and Gary Neal had 16 points   apiece for the Spurs, who lost heavily despite having eight   players score in double digits.
Orlando led by just two at the end of the first quarter   but outscored San Antonio by 19 over the middle two periods on   the strength of 20 points by Howard to take command of the game.
The Magic hit 60 percent of their shots, including   13-of-25 from beyond the arc.