LONDON, (Reuters) – Chelsea's worrying slump turned  into a full-blown crisis when the Premier League champions were comfortably beaten 3-1 by Arsenal at The Emirates yesterday.
Goals from Alex Song, Cesc Fabregas and Theo Walcott in a nine-minute spell either side of halftime condemned Carlo Ancelotti's team to another defeat and they have now managed just six points from the last 24 on offer.
Branislav Ivanovic replied for the visitors but the damage  was already done as Arsenal ended a run of five consecutive  defeats against their London rivals to reclaim second place in  the table above Manchester City on goal difference.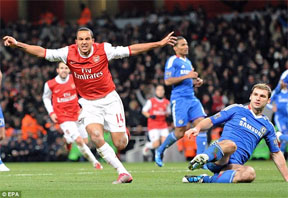 "We have matured, I have said that many times. Let's hope it  strengthens our belief for the championship and our belief that  we are on the right track," said Arsenal manager Arsene Wenger.
"Today we were disciplined, mature and we played for each  other. There's still some room for improvement and I'm confident  the team will continue to train hard and focus well together."   Arsenal have moved to 35 points from 18 games with unbeaten  leaders Manchester United on 37 having played a game less.  Chelsea, who started the season in scintillating form but have  forgotten how to win, remain in fourth place on 31.
"The table is not good but this is the reality," Chelsea  manager Carlo Ancelotti told Sky Sports. "We have to play better  and wake up. I am not worried. I have to work and you will have  to ask the owner (Roman Abramovich about my future)."
Around the Web