MELBOURNE, (Reuters) – England's Jonathan Trott   overcame a painful blow to the knee to strike a brave century   as he and Matt Prior savaged Australia's attack late yesterday   to put the tourists in a strong position to retain the Ashes.
Trott's unbeaten 141 propelled England to 444-5 at stumps   on the second day of the fourth test, a lead of 346 runs, and   was completed after he was floored by a Ben Hilfenhaus   delivery that deflected off his bat and struck him his left   knee when on 76.
The Cape Town-born batsman slumped to the ground in pain   and lay prone for a number of minutes as he received medical   attention.
He got to his feet gingerly, however, and eventually   brought up his ton with a deft flick through midwicket that   raced to the boundary under bright sunshine at the Melbourne   Cricket Ground.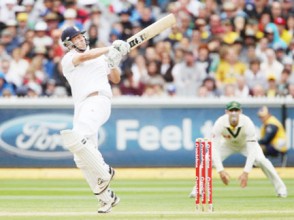 Trott held his helmet and bat aloft in celebration,   savouring the applause from the crowd of more than 67,000,   before embracing his batting partner Prior.
"One I will definitely savour, but they're all pretty   special," Trott told reporters of his fifth test century.
"But Boxing Day (Dec. 26) and all the hype around it and   the support from the English fans, it would be right up there   (with my best)."
"(The blow was) probably one of the most painful things   I've ever felt in my life," Trott added.
He and Prior's unbeaten 163-run stand took the wind out of   Australia's sails after the hosts' pacemen had threatened to   stall England's charge with three wickets in an   incident-packed afternoon session.
Prior joined in the celebrations by smacking a pull-shot   off part-time legspinner Steve Smith to bring up his   half-century before joining with Trott to belt Australia's   bowlers to all corners of the ground in the final overs.
Wicketkeeper Prior was on 75 at stumps as the pair raised   England's hopes of further tightening the noose around   Australia's neck on day three with five wickets in hand.
Trott's century may also bring back grim memories for many   of skipper Ricky Ponting's men, who watched the 29-year-old   stroke a brilliant second innings 119 on his test debut at the   Oval last year to help England seal the Ashes in the fifth test.
This five-test series is tied at 1-1 but victory for   holders England in Melbourne will seal the Ashes with a test   to spare and make Andrew Strauss's team the first to take the   urn home in 24 years.
England will fancy themselves to build an insurmountable   lead on day three and have more than two days to bowl out   Australia, whose top order batsmen have failed throughout the   series.
"We all know that the Australian team, like we saw at the   last test match, that they have some good players," Trott said.
"So we have to be at the top of our game that we make sure   we really keep the pressure on them the whole time with our   batting tomorrow obviously and also the ball.
"There's plenty more for us left to be done in this test   match."
Australia's bowlers were handed the thankless task of   protecting a paltry first innings total of 98 and were already   under pressure after allowing Andrew Strauss and Alastair Cook   to romp to stumps an unbeaten opening partnership of 157.
Paceman Peter Siddle raised Australia's hopes of limiting   the damage, however, removing the openers in quick succession   in the morning and later trapping Kevin Pietersen lbw for his   third wicket after lunch.

PONTING'S ANGER

In between, Australia's desperation for wickets spilled  over into frustration and the under-fire Ponting was involved  in an ugly on-field tirade against umpire Aleem Dar over a   video referral.
Paceman Ryan Harris had teased Pietersen's bat with a  delivery that went through to wicketkeeper Haddin, whose wild   appeal for caught behind was neither shared by his team mates  nor endorsed by the umpire.
Haddin demanded a referral but the video review showed no  evidence of a nick and the decision was upheld.
Ponting and Siddle remonstrated with Dar for more than a   minute between overs, prompting jeers from the crowd.
"It's just cricket," Siddle said without elaborating, when  asked whether the incident fueled with the frustration of long   sessions in the field for little return.
The heated moment seemed to spark the paceman, who had  Pietersen dismissed shortly after and the breakthrough fired   up his fellow seamers.
Mitchell Johnson soon had the out-of-form Paul   Collingwood's wicket when the middle order batsman slogged a   harmless short ball to fine leg where Siddle rushed forward to   take a sharp catch.
Johnson then captured Ian Bell for one, when he miscued a   pull shot that Siddle again snaffled.
Johnson was denied a third wicket shortly before the tea   break in unusual circumstances when his dismissal of Prior was   over-ruled by the third umpire who spotted a no-ball that   umpire Aleem Dar had missed.
Prior, who had trudged halfway off the ground, was called   back to the crease before the video review showed Johnson's   foot too far forward.
The defiant Siddle refused to concede that Australia faced   a hopeless task to save the test.
"We've just got to knuckle in and obviously keep working   at it," he said. "The boys are feeling good, it was obviously   another tough day but they're still upbeat," he said.
"It's going to be tough to win from here, that's pretty   obvious. We've still got to get five more wickets to get back   out there with the bat."
Around the Web