SAN ANTONIO, Texas, (Reuters) – Tony Parker scored   20 points and made 14 assists to help the San Antonio Spurs   rebound from their worst loss of the season with a 94-80   victory over the Washington Wizards on Sunday.
Manu Ginobili added a team-high 21 for the Spurs who were   beaten 123-101 by the Orlando Magic on Thursday, a defeat that   had snapped San Antonio's 10-game winning streak.
The Spurs knocked down 10 three-pointers and held a   16-point lead after three quarters to improve their NBA-best   record to 26-4. San Antonio will meet the two-time defending   champion Los Angeles Lakers today.
"We talked about it this morning at shoot around – make   sure we respect (Washington) and prepare for the Lakers,"   Parker told reporters. "We played well tonight. We moved the   ball and made some open shots."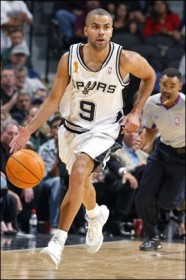 San Antonio has thrived this year with a balanced offense   despite career-low point and rebound averages from veteran Tim   Duncan.
The 34-year-old Duncan had just five points and nine   rebounds as the Spurs took a six-point lead into halftime   before polishing off the shorthanded Wizards.  Rashard Lewis led the Wizards with 21 points and 12   rebounds in just his second game with the team after being   acquired from the Orlando Magic in a trade for Gilbert Arenas   last week.  The trade is expected to provide more opportunity for top   draft pick John Wall, who came off the bench and scored four   points in his first action since missing five games with a   bruised knee. He has missed 12 games this season due to injury.
"You can see John (Wall) is a little rusty," said Wizards   coach Flip Saunders. "It's going to take us some time to get   him back in the fold."
Washington were also without Andray Blatche and JaVale   McGee. Local media reported they had been suspended for one   game after getting involved in a nightclub altercation on   Friday.
Tony Parker
Around the Web