PORT OF SPAIN, Trinidad, CMC – West Indies all-rounder Dwayne Bravo says his decision not to play for Trinidad and Tobago in next month's Caribbean Twenty20 Championship had been difficult one.
The 27-year-old has opted to play for Victoria in Australia's Twenty20 Big Bash and will miss the January 10-23 tournament scheduled for Antigua and Barbados.
Bravo is one of two T&T players to miss the tournament as fellow Windies all-rounder Kieron Pollard has signed to play for South Australia in the Big Bash which runs from December 30 to February 5.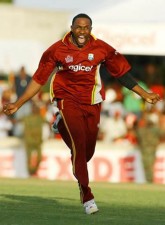 "The decision by us not to play for T&T was a tough one, as we remain committed to T&T's cricket," Bravo told CMC Sports this week.
"However, with Pollard and myself not being there I hope that two young players can step up to the plate and make a name for themselves."
Bravo and Pollard are key to the balance of the national T20 side and are also the most experienced players in the squad.
They were at the forefront when T&T won the now defunct Stanford Twenty20 in 2008 and were again instrumental when they played unbeaten to reach the final of the Airtel Champions League last year before losing to New South Wales.  Bravo, who has played 40 Tests and 107 One-Day Internationals, said they had been encouraged by the support from the T&T Cricket Board and would be throwing their full support behind the squad in the tournament.
"We felt a lot better by the fact that we got the support of the board and we wish T&T all the best in the tournament," he said.
"I see no reason why T&T cannot go on and win the tournament and make up for the disappointment of the 2010 season. We really did not have a good season and the guys should keep this in mind and got out there and play their hearts out.
"The team has to fight hard, remain focus and go out there and win the title and this would set up the year ahead very nicely for T&T. I will be following the exploits of the team very closely from Australia and will be in touch with the team giving my support.  T&T will play in Group B of the CT20 alongside Barbados, Leeward Islands, Canada and English County Hampshire.
Around the Web