OKLAHOMA CITY, (Reuters) – The streaking Dallas  Mavericks overcame an injury to nine-time All-Star Dirk  Nowitzki to beat the Oklahoma City Thunder 103-93 on Monday and  maintain their impressive record on the road.
Nowitzki scored 13 points before leaving the game for good  early in the second quarter with a sore right knee.
The high-scoring forward came down awkwardly after he was  fouled on a jump shot and then headed for the locker room,  although his injury is not believed to be serious.
"It was scary when he went down but when we saw him at  halftime, he was smiling and asked what the score was," Dallas  guard Jason Terry told reporters. "He told us: 'Ah you got em',  so that gave us confidence."
Forward Caron Butler picked up some of the slack with a  team-high 21 points and Terry scored seven straight points in  the fourth quarter to give the Mavericks (24-5) a 90-84 lead en  route to their fifth successive win.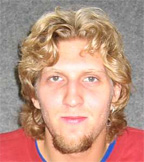 Terry boosted the team off the bench with 13 points and  eight assists, as did Shawn Marion who recorded 20 points and  nine rebounds.
Kevin Durant, the league's leading scorer who poured in 44  points in a win over Denver on Christmas Day, finished with 28  but the Thunder (21-11) were outscored 24-12 in the final  quarter to let the game slip away.
Oklahoma City fell behind by 12 early on but tied the game  by halftime and stayed close to the Mavericks until going cold  in the fourth when they missed their first eight field goal  attempts.
James Harden scored 18 points off the bench while Russell  Westbrook had 15 while making just five of 15 shots for the  Thunder.
Dallas, which has the second best record in the NBA behind  the San Antonio Spurs, came into the game without head coach  Rick Carlisle who has a knee injury.
However the Mavericks stayed red-hot on the road where they  have now won eight in a row for a league-best record of 11-1  this season.
"This was a great team win, a huge team effort," said  Mavericks coach Dwane Casey who filled in for Carlisle.  "(Marion) had a heck of a third quarter and Jason Kidd just  willed us to win."
Around the Web