MIAMI, (Reuters) – Jason Terry scored all 19 of his  points in the fourth quarter to help the Dallas Mavericks end  Miami's 12-game winning streak with a 98-96 victory over the  Heat on Monday.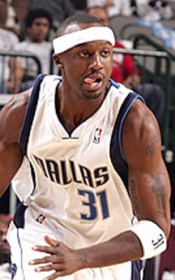 Terry made consecutive three-pointers down the stretch to  lift the Mavericks (22-5) to their 15th win in 16 games.
  
Dirk Nowitzki finished with a team-high 26 points and nine  rebounds for Dallas, which took a one-point lead with 6:27   remaining and never trailed again.  
 
The Mavericks defense held the Heat to 40 percent shooting for the game.  
"We mixed up our zone and man-to-man nicely," Nowitzki   told reporters after the Mavericks won their 14th straight   regular-season game against Miami.    
"We just tried to clog the lane as much as we could. They   settled for a lot of threes against our zone."   
Dwyane Wade paced Miami (21-9) with 22 points while LeBron   James and Chris Bosh scored 19 each as the Heat have now   suffered their last two losses to Dallas.
 
Miami was defeated by the Mavericks on Nov. 27 to drop to   9-8 on the season.
 Struggling to find chemistry with their   three All Stars, the Heat held a player's only meeting and   quickly reeled off their 12-game win streak.
  
Despite entering Monday's game in top form, Miami fell   behind by 13 in the first quarter but battled back to take a   44-43 lead into halftime. The Heat led by five early in the  fourth until Terry began his scoring run.
  
The Mavericks led by one when Terry buried a three-pointer with 1:25 remaining to give the visitors breathing room.  
Dallas clinched the game at the free throw line before Wade  made a three-pointer with time expiring to shrink the final   margin.
  
"Bottom line is they made bigger plays down the stretch  and were more consistent and hit some big shots," said Miami   coach Erik Spoelstra.   
"It doesn't happen to us often that somebody scores 33  (fourth-quarter points) on us and did it in our building."  
Sharp-shooting guard Mike Miller went scoreless in his season debut for the Heat after being sidelined with a thumb   injury.
Around the Web