LOS ANGELES, (Reuters) – The NBA champion Los   Angeles Lakers were left stunned and humiliated after being   upset 98-79 on their home court by the under-strength  Milwaukee Bucks on Tuesday.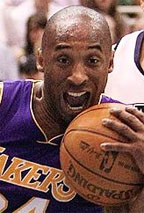 Back in familiar surroundings after winning five of their   last six games on the road, the Lakers were unable to maintain   any consistency against a team missing pivotal point guard   Brandon Jennings through injury.
Earl Boykins scored a game-high 22 points off the bench   for the Bucks, including four three-pointers, while guard John   Salmons contributed 20 points and forward Ersan Ilyasova 17.
It was an inspirational all-round performance by the   visiting team, who were playing only their second game since   Jennings was sidelined for at least four weeks with a broken   left foot.
"Each time we appeared to be teetering a little bit, we   were able to make a series of big plays to extend the lead,"   Milwaukee head coach Scott Skiles told reporters after his   team improved to 11-16.
"If you're going to come into this type of place and beat   this type of team, you're going to need those types of plays.   We wouldn't have won the game without Earl tonight."
The Bucks, who were also without regular starters Corey   Maggette and Drew Gooden due to injury, ended a run of six   consecutive defeats at the hands of the Lakers.
All-Star guard Kobe Bryant was restricted to 21 points for   the home team, who shot only 46 percent from the field on a   forgettable night compared to Milwaukee's 51 percent.
Spanish forward Pau Gasol had 15 points and 11 rebounds   while Lamar Odom tallied 12 and 10 as Los Angeles slipped to   21-8 for the season.
LAKERS WAKE-UP
"This game was a wake-up game of sorts for our team,"   Lakers coach Phil Jackson. "I told them I don't think they can   play any worse than that.
"(In the second half) we stopped moving the ball, started   playing individual basketball and the stand-around stuff   started happening. Their defense was good, that made us do   that too."
The Bucks, who had lost their previous three games, made a   surprisingly strong start, twice leading by seven points   before ending the first quarter 25-22 ahead.
Bench players Shannon Brown and Matt Barnes helped spark a   Los Angeles fightback early in the second quarter before a   sloppy spell left them trailing 50-46 at halftime.
The Lakers again clawed their way back, a Gasol fall-away   jump shot tying the score at 63-63, before the Bucks ended the   third quarter with four unanswered points and a 72-66 lead.
With a stunning victory in their sights and the Lakers   being booed by sections of the sellout crowd, Milwaukee   produced a rousing finish.
Reserve guard Boykins poured in a pair of three-pointers   before an Andrew Bogut reverse layup with 4:26 left on the   clock gave the Bucks a 13-point advantage — the biggest of   the night.
Another Boykins three-pointer put the visitors up 92-77   before Bryant was ejected from the game for a second technical   foul as Lakers fans streamed for the exits.
The humbled Lakers will face their biggest test of the   season on Saturday when they host LeBron James and the Miami  Heat in a Christmas Day showdown.
The Bucks, who ended Tuesday's game with a 21-7 run, are  next in action today with a road game against the  Sacramento Kings.
Around the Web