The local basketball arena will come alive shortly as the Georgetown Amateur Basketball Federation (GABF) is jumping off the New Year with the hosting of their inaugural 'Champion Club' basketball tournament scheduled to begin on January 22. This is according to President of the GABF, David Patterson, who made the disclosure  when contacted by Stabroek Sport yesterday.
Patterson explained that the tournament, which is the first of its kind in Guyana, is aimed at identifying the top basketball club in the country and will become an annual event. "You can't be a home grown champion or a champion in your own community, we want to see who the champion truly is," said Patterson.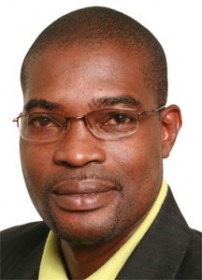 He added that the tournament will be contested at two venues in a "Home and Away" format, with games being played at the Cliff Anderson Sports Hall and the Mackenzie Sports Club (MSC) basketball court in Linden.However, the use of the MSC for the GABF tournament is dependent on whether the resurfacing and renovation work which is scheduled to be conducted at the facility is completed.
"We are waiting to see if the court [MSC] will be completed," Patterson said.
He was, however, optimistic that the MSC court will be completed since, according to him, he has spoken to those involved in the court's rehabilitation project and was informed that the facility will be finished in time for the GABF's upcoming tournament.
Patterson related that the move to take all the games in which the tournament's Linden teams will be contesting to Linden was made to convenience the Linden teams and eliminate the need for them to travel all the way to the city to compete.
This move comes after the Linden players were reluctant to travel to Georgetown for tryouts to select Guyana's national team for an International Series that was hosted in Guyana in August at the Cliff Anderson Sports Hall.
The senior players from Linden had complained that their transportation costs should have been refunded.
"We don't want to have the Linden players at a disadvantage," Patterson said yesterday. According to Patterson, the tournament will feature eight teams; four from Georgetown, Three from Linden and one from Berbice.
Around the Web