TORONTO,  (Reuters) – There was no Christmas comeback  for the Toronto Raptors as the Detroit Pistons rolled into the  holiday break with a 115-93 win on Wednesday, ending an  eight-game losing streak on the road.
Earlier this month, Detroit had watched as the Raptors  erased a 25-point third quarter deficit to register the biggest  comeback win in franchise history.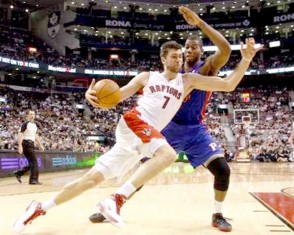 But this time the Pistons would not let Toronto up off the  mat once they had them down, opening up a 32-point cushion in  the fourth quarter on the way to notching their first win in  six meetings with the Raptors.
Richard Hamilton, who has been the subject of trade rumours,  led the Pistons with a season-high 35 points off the bench  while Rodney Stuckey contributed 21 and former Raptor Charlie  Villanueva chipped in with 18.
Ben Wallace, playing in his 1,000th career game,  contributed just four points and six rebounds for the Pistons  but coach John Kuester was full of praise for the big centre. "A couple of accomplishments, one of them was Ben Wallace  getting his 1,000th game, a player who hadn't been drafted,"  Kuester told reporters. "What an accomplishment and a wonderful  human being.
"I know Ben did not shoot the ball tonight but Ben was  doing other things. The way he was playing, I liked his  energy."
The injury-hit Raptors got 21 points from Leandro Barbosa,  19 from Linas Kleiza and 16 from Andrea Bargnani, who injured  his calf and watched the end of the game on the bench with team  mates Peja Stojakovic (knee), Reggie Evans (foot), Sonny Weems  (back spasms) and Jerryd Bayless (food poisoning).
The Raptors narrowly trailed 24-23 after the first quarter  but found themselves in an 18-point hole at 62-44 down going  into the intermission.
The Pistons made sure of no repeat of their Dec. 11  meltdown, Kuester warning his players during the break that  they needed to keep up the pressure.
"It was mentioned," said Kuester. "We realised we had to  continue with the same type of focus we had in the beginning.
"It's a good win going into this Christmas break."
The under-manned Raptors attempted to bite into the Detroit  advantage in the third quarter but the Pistons weathered the  fightback by maintaining their 18-point cushion before  delivering the knockout punch in the fourth with a 15-0 run.
Around the Web