-Allicock awarded best boxer
Samuel Primo, fighting out of the Guyana Defence Force Gym (GDF),  defeated Republican Gym's Trelon Munroe by a knockout to win their heavyweight clash when the Guyana Amateur Boxing Association's Champion of Champions tournament ended Sunday night at the Cliff Anderson Sports Hall.
Primo's victory came 43 seconds into the first round after Munroe couldn't survive the referee's count after being knocked down.
Sunday evening was the final night of boxing on the Champion of Champions boxing card which also saw a number of other heavy hitting fighters squaring off in their respective divisions.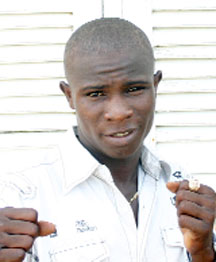 In one of the other highly anticipated `big bouts' that evening, GDF's Mark Pierre obtained a victory in the light heavyweight category without throwing a single punch.
Pierre was awarded a walkover victory over Guyana Police Force (GPF) Gym's Jermaine Dow, who failed to show up for the weigh-in.
However, though disappointed in that respect,  supporters were entertained by the middleweight clash, where GDF's Ron Smith defeated his GDF counterpart Eon Bancroft by two rounds to one (2-1).
GPF's Ray Sandiford, back from his suspension won the junior welterweight title by fighting his way to a 2-1 victory against GDF's Romano Clarke while Harpy Eagle Gym's Stephon Gouveia trounced Nandkumar Singh 3-0 in the lightweight division.
The Harpy Eagle's Gym also won the bantamweight and flyweight categories.
In the bantamweight category Keeve Allicock defeated Port Kaituma's Benjamin Harry 3-0 and in the flyweight category  Imran Khan battered the Pocket Rocket Gym's Richard Williams, forcing the referee to stop the contest in round three.
Meanwhile, Troy Billey, fighting out of the New Bauxite Bombers Gym, was the winner of the junior flyweight category with a 3-0 defeat of Ricola Warriors' Moonchan Sankar.
In the lower weight classes on Sunday night, Joel Williamson of the Pocket Rocket Gym, easily defeated Forgotten Youth Foundation's Troy Armstrong 3-0 in the 85-89 lbs weight class.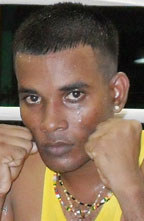 The Forgotten Youth Foundation was again at the forefront when Diwani Lampkin defeated Harpy Eagles' Keron Thorne 2-1, while Pocket Rocket's Jamaal Eastman comfortably won the 65-69 lbs category 3-0 over Shaka Moore of Essequibo.
Special awards were also presented to fighters at the end of the tournament. Steve Allicock of the Harpy Eagles Gym received the best boxer award and GDF's Eon
Bancroft was adjudged the most improved boxer.
Around the Web