The Kennard Memorial Turf Club yesterday received tangible support from telecommunications giant Digicel for their upcoming Boxing Day horse race meet.
This is the fifth occasion that the company, avid sponsors of sports events, has supporting  the annual meet.
Organiser of the event, Cecil Kennard received a cheque for $330,000 yesterday for Sunday's event at the company's head office at Barrack Street, Kingston.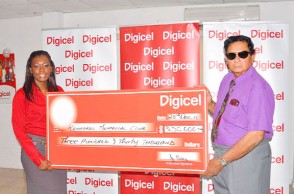 Digicel's sponsorship was well received by Kennard, who described the upcoming event as "The Big Boxing Day Horse Race Meet."
Kennard stated that the race meet will feature some of Guyana's finest bred horses which should amount to a highly competitive event.
"It's important that we express our gratitude to Digicel for coming on board again, because as we all know, no sporting activity can be successfully promoted without sponsors," he declared.
"I wish to thank Digicel once again and we are looking forward to their continued support in the future," Kennard added.
He disclosed that the weather on the Corentyne was "excellent" and said that the race meet is expected to be a very entertaining event.
Digicel's Public Relation Officer, Shonnet Moore said that the company was pleased to once again be supportive of the Kennard Memorial Club.
"This is not our first sponsorship with the club we have been sponsoring throughout the years," said Moore.
"Digicel is one of the leading corporate sponsors of sports in Guyana… we have made a significant contribution towards the development of sport and towards the development of young people through sports and we will certainly continue to do this in 2011," Moore said.
Some of the horses expected to be on show at the upcoming race meet of nine races are: Wicked Intentions, who is unbeaten so far for the year, Kevin, Princess Reneuka, Malicia Joy Roy Salute, Cash Connection, J.D Junior, Water Wave, Northern Junior and Speed Vision.
Around the Web