Clyde Butts and his fellow selectors have received an early Christmas present.
They already know what's inside, for they are aware that their two fastest, most experienced and most penetrative bowlers are playing again. But they won't get overly excited until they can unwrap the gift paper and discover whether the two are back in full working order.
Even so, they will be encouraged by Taylor's inclusion in Jamaica's team for the forthcoming regional T20 tournament and Edwards' return to club cricket in Barbados. If they – or even one – are, indeed, once more in fine fettle it will be a tremendous boost to an attack that, in their absence, has been almost totally dependent on the impressive apprentice Kemar Roach.  That is a big 'if'.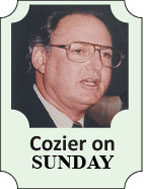 Both have been repeatedly afflicted by injuries of one kind or another since they first appeared for the West Indies in the same home series against Sri Lanka in 2003, Taylor aged 19, Edwards 21.
In the seven years since, their physical facilities have confined Taylor to 29 Tests, Edwards to 43.
Taylor's seam movement and Edwards' round-arm outswing, both at upwards of 90 miles an hour at full throttle, pose telling questions to the best of batsmen when they are at their best and fittest. Regrettably, the former has been generally dependent on the latter.
Taylor's best was his sensational 5-11 spell that routed England for 51 at Sabina Park last year to set up the series triumph that regained the Wisden Trophy after nine years. His Test record is 82 wickets at an average of 35.64, unflattering perhaps but, given his medical history, also somewhat deceptive.
Edwards' potential is reflected in the seven times he has accounted for five or more wickets in an innings and the quality of the batsmen included among his 122 Test victims. Unhelpful pitches and unhelpful fielders are factors that boost his average to 39.43 per wicket.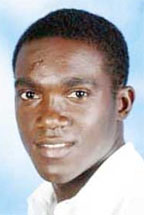 Edwards has not bowled a ball in international cricket since he wrecked his back bowling for the Mumbai Indians in the T20 Champions League in India 14 months ago.
The ailment was diagnosed as a slipped disc and required surgery.
For a fast bowler, it is a problem akin to that of a broken jaw for a boxer but modern science is such that he could return as the Edwards of old. The next few months that encompass the regional first-class season will tell.
Taylor hasn't been up to Test cricket since he left the field with a hip condition after sending down nine overs (with Shane Watson's wicket) in the first Test against Australia in Brisbane just over a year ago. He returned for the T20 World Championship in the Caribbean in April in which he managed just 11 overs.
He was chided by the West Indies Cricket Board (WICB) for his "lack of commitment to his own rehabilitation" and denied a retainer contract for the coming year. A well publicised incident with a policeman in a Jamaican bar earlier in the year suggested his mind was not on his cricket.
Reports from Kingston are that, under the guidance of the former West Indies captain, Jimmy Adams, he is back on track. He is only 26 and, once he takes care of himself physically and temperamentally, he has several years left as a front-line bowler.
Without him and Edwards, Roach, aged 22 and a relative novice to Test cricket, has had to front the bowling virtually on his own while Butts and his colleagues have searched in vain for adequate support.
Since the strike by the leading players opened the way for his debut against Bangladesh 17 months ago, Roach has shared the fast bowling duties with five others – Tino Best (two Tests), Ravi Rampaul (five), Gavin Tonge, Brandon Bess, Andre Russell (one each). Nelon Pascal was picked to partner him in the final Test in Sri Lanka recently but the weather prevented them bowling a ball together.
While he has taken 36 wickets in his 10 Tests at the respectable average of 28.25 each, the other fast bowlers (Darren Sammy and Dwayne Bravo are not in this category) have gathered 10 at a cumulative average of 99.9. Eight times, he has claimed wickets within the first 15 overs of innings, only one less tan all the others put together (Sammy, Bravo and Sulieman Benn included).
What is more, Roach has missed only one match in that time, the first against South Africa at the Queen's Park Oval last June with a sore left ankle.
These are statistics that explain the hope the return of Edwards and Taylor generates.
It is not to say that the pace cupboard is absolutely bare. Russell has emerged as the newest fast bowling recruit and coach Gibson enthused about his potential and his attitude after the tour of Sri Lanka.
Those in the know also speak optimistically of the advance of Shannon Gabriel, the big Trinidadian, at the High Performance Centre and in the recent 'A' team series against Pakistan.
Nor does it mean, as Benn has shown over the past year, that there is no place for spin. But, with rare exceptions (India of the 1970s with Bedi, Chandrasekhar, Prasanna and Venkataraghavan is the most obvious), no champion team has ever been short of quality fast bowling.
It was once such a feature of West Indies cricket.
West Indies fast bowlers since June 2009
Kemar Roach     10 Tests         36 wickets     average 28.25.
Tino Best     2 Tests         2 wickets     average 96.00.
Ravi Rampaul     5 Tests         4 wickets     average 109.75.
Gavin Tonge     1 Test         1 wicket         average 113.00.
Brandon Bess     1 Test         1 wicket         average 92.00.
Nelon Pascall     1 Test         0 wickets
Andre Russell     1 Test         1 wickets     average 104.00.
West Indies bowlers since June 2009 with wickets within the first 15 overs
Roach –  8 times
2nd Test v Bangladesh, 2009:     Over 13.4, 10.3.
3rd Test v South Africa, 2010:     Over 2.1, 4.2, 8.3.
1st Test v Sri Lanka, 2010:         Over 15.0.
2nd Test v Sri Lanka, 2010:     Over 4.3, 12.5.
Sammy – 3 times
2nd Test v Bangladesh, 2009:     Over 6.5, 11.5.
2nd Test v Sri Lanka, 2010:     Over 14.0.
Bravo – Twice
2nd Test v Australia, 2009:         Over 8.1.
2nd Test v Sri Lanka, 2010:     Over 13.5.
Rampaul – Once
3rd Test v Australia, 2009:          Over 3.2.
Taylor – Once
1st Test v Australia, 2009:         Over 2.1.
Benn – Once
3rd Test v South Africa, 2010:    Over 10.1
Russell – Once
1st Test v Sri Lanka, 2010:        Over 1.2.
Around the Web