SYDNEY, (Reuters) – Perfectionist Ryan Harris was   still not happy with his bowling despite ending England's resistance to give Australia a comprehensive victory in the third Ashes test at the weekend.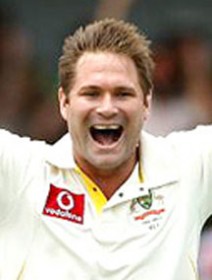 The 31-year-old seamer took four wickets in less than an hour on Sunday's final morning in Perth to finish with 6-47, ending England's slim hopes of a win and levelling the series  at 1-1 with two tests to play.
"I wasn't very happy with the way I bowled, the feeling I  had wasn't great, but the positive out of that is I've taken six wickets," Harris told reporters in Perth yesterday.
"I'll take that away, I've got a few things to work on in Melbourne which I'll do, but pretty happy with the result.
"The best thing I can do is not think about it, go out and bowl and do what I do best, which is bash the wicket.
"They say fast bowlers aren't smart blokes but I probably shouldn't think as much as I do."
Harris's performances since he was recalled for the second test in Adelaide has all but ensured he will be in the starting lineup when the fourth match in Melbourne starts on Sunday, even if Australia decide to bring in a spinner.
He missed out on the first test in Brisbane largely   because of concerns about his recovery from knee surgery but   the injured joint seemed to be withstanding the labours of   test cricket.
"The cartilage on the outside of my right knee is going   basically, there's not much left," Harris said.
"I'm eating through it every time I pound into the crease.With that, there's probably a little bit of bone-on-bone at the moment, which was causing the swelling.
"But … it's not playing up like it did when I came back   … everything's going great at the moment."
Around the Web