ST JOHN'S, Antigua, CMC – The West Indies Cricket Board has thrown its full support behind embattled off-spinner Shane Shillingford who was yesterday banned by the International Cricket Council from bowling after his action was deemed illegal.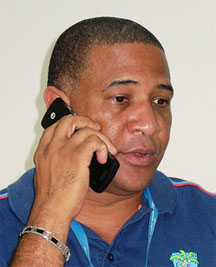 Shillingford was reported during the first Test against Sri Lanka last month in Galle and subsequent Tests revealed that his bowling action fell outside 15 degrees level of tolerance permitted under the ICC regulations.
"The WICB has received the report on Shane's action and will consult with experts and formulate a suitable plan of action and hopefully he can continue his international career in the shortest possible time," WICB chief executive Ernest Hilaire said.
"The WICB and the Team Management Unit remain confident in his ability to perform at the highest level and see this latest development as a challenge which has been placed before him.
"Shane is a tough cricketer who arrived on the international stage via the difficult route after years of toil on the regional circuit, we have no doubt that he will emerge from this test of his character."
The ICC said the independent analysis of Shillingford's action was performed by Professor Bruce Elliott, member of the ICC Panel of Human Movement Specialists, at the School of Sport Science, Exercise and Health, University of Western Australia in Perth on December 9.
In accordance with clause 2.3 of the regulations for the review of bowlers reported with suspected illegal bowling actions, the Dominican has the right to appeal against UWA's conclusions to the Bowling Review Group but must do so in writing to the ICC within 14 days of receiving the report.
Around the Web