PORT OF SPAIN, Trinidad, CMC – Lendl Simmons' local club president is irate over the flashy opener's continued exclusion from West Indies teams and has blasted regional selectors over the issue.
The 25-year-old Trinidadian last played for West Indies on the One-Day International tour of Australia in January but has failed to get a look-in since then.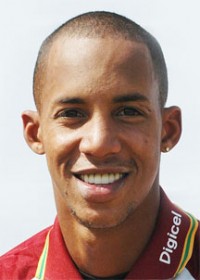 There was also no place for the right-hander in the 30-man preliminary West Indies squad for next year's Cricket World Cup, prompting a bitter salvo from Merryboys Cricket Club head, Patrick Rampersad.
"This latest snub is truly amazing, unbelievable and logic has no place in this situation," he seethed.
"It seems that there is a deliberate effort on the part of a certain selector or selectors not to select Simmons and finish him off."
Simmons and the West Indies Cricket Board appear to be at loggerheads over issues pertaining to the Australia tour.  In October, the Board claimed that Simmons had agreed to a "critical meeting regarding his profession" but had failed to attend and had resorted to communicating with the Board through players union, WIPA.
Also, the Board pointed out that Simmons had scored 277 runs from 13 innings at an average of 25.18 since being dropped, and needed to improve on these statistics in order to press for selection.
In response to the WICB's claim, WIPA president Dinanath Ramnarine said that Simmons had not been given enough time to attend the meeting which was hastily arranged by chairman of selectors, Clyde Butts.
Rampersad, also a member of the Trinidad and Tobago Cricket Board's executive committee, contended that Simmons was being hurt by his affiliation to WIPA.
"We all know of the battle between the board and the players association and I am also of the view that Simmons is being made to pay for turning to the players association for assistance," he argued.
Simmons did not enhance his case for selection after managing 34 runs from two innings as T&T bowed out the WICB One-Day Championship in the group stages last November.
Last year, he forced his way into the West Indies Test side after an epic 282 against the touring English but his six Test innings have yielded just 87 runs.
His form Down Under was hardly impressive either, as he managed a mere 60 runs from four ODIs.
Around the Web