BRIDGETOWN, Barbados, CMC – Fast bowler Tino Best believes he is still a valuable asset to West Indies cricket and hopes he can make the final squad for next year's World Cup in Asia.
The 29-year-old was named this week in the 30-man preliminary squad for the February 19 to April 2 showpiece, with selectors expected to trim the group in half by January 19.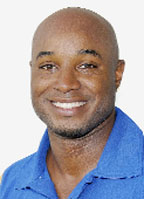 Best has played sporadically for West Indies since his debut seven years ago and is now eyeing the opportunity to fight his way back into the regional side. "It is everyone's dream to play in the World Cup and I'm no different. I believe I have something to offer to the West Indies in the quest to be world champions," the fiery fast bowler said.
"I have been doing a lot of work on my game and I believe I am now a more mature bowler with a better understanding of the art of bowling.
"I am now getting the ball to swing more, and swing at pace will always cause problems for batsmen. This has come with experience. I believe at this stage in my career I can offer a lot."
The right-armer has taken 28 wickets in 14 Tests, the last of which was against Bangladesh last year when he was called up during the strike by the first choice Windies players.
His 13 wickets in 12 One-Day Internationals do not make exciting reading but his 10 wickets in four games at a healthy strike of 13 during last November's WICB One-Day Championship got the attention of selectors.
Best, well known for his passion and exuberant celebrations, said he was happy he had remained in the selectors' thinking.
"I am elated to be in the 30. My bowling has improved tremendously this year and I am happy the selectors still have me in their thoughts," Best said. "It would mean everything to me to be selected to play for the West Indies in the World Cup and get back on the international scene."
He last represented the West Indies during the ICC Champions Trophy in South Africa last year.
Around the Web