Guyana's most prestigious football event, the annual Kashif and Shanghai Knockout Football Tournament,  officially entered its 21st year with the launching at Duke Lodge which was aired live yesterday.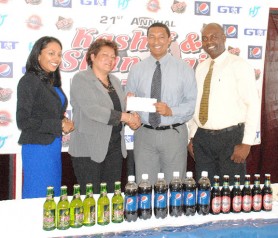 The launching marked the commencement of partnerships with major beverage companies Demerara Distillers Limited and Ansa McAl  for the tourney.
Co-Directors of the Kashif and Shanghai organization, Kashif Muhammad and Aubrey 'Shanghai' Major were joined at the event by Ansa McAl's Managing Director Beverly Harper and Marketing Director of DDL Sharda Veeren-Chand.
Ansa McAl features sponsorship through their Mackeson Triple Stout and Stag Lager Beer brands while DDL features their sponsorship through their Pepsi brand.
Harper in her comments said that  "Ansa McAl has recognized that the Kashif and Shanghai tournament is one of the greatest tournaments Guyana has had over the years and through our Stag and Mackeson brand we are happy to be partnering with Kashif and Shanghai."
"We support sports, cultural activities and much more but this event is one close to our hearts since our people love football and love Kashif and Shanghai's tournaments. I think these guys have a well-oiled machine which makes the tournament so successful."
She also expressed the hope  that  this is the beginning of a long successful partnership.
When Veeren-Chand had her time on the floor she said that this tournament was one DDL has admired from a spectator's point of view for some time and is very grateful to be onboard for the 21st edition.
She said "the public has always been supporting DDL and every chance we get we try to support and give back to the public."
Like Harper, Veeren-Chand hopes this established partnership with the top organizing group goes a long way.
Muhammed stated in his remarks that this year's tournament will be bigger and better, especially for the victors since the prize will be increased by 100%, but an exact figure is yet to be decided.
He added that this tournament has been successful throughout the years with support from the public and private sectors along with President Bharrat Jagdeo who donates the top cash incentive of one million dollars.
The organization is also working toward organizing a  national team, which is yet to be decided, to take on the Golden Jaguars on the opening night of the tournament as an exhibition match at the Providence National Stadium on December 12.
The teams involved in this year's tournament are: Defending champs – Western Tigers, Alpha United, Guyana Defence Force (GDF), Pele, Camptown, Conquerors, Riddim Squad, Santos, Milerock, Top XX, Victoria Kings, Buxton United, Seawall United, Liquid Gold, New Amsterdam and Rosignol United.
Buxton Stars and Ann's Grove are the standby teams. Meanwhile, a Barbadian team named Caribbean United also signalled their intention  to participate in the tournament.
Comments
Wales Football Club secured its second win in the Stag Beer sponsored West Demerara Football Association (WDFA) Senior League edging Jetty Gunners 1-0 yesterday at the Den Amstel ground.

Stewartville Secondary punched their ticket to the next round of the Digicel Schools football championships dismissing Windsor Forest 5-2 yesterday at the Leonora Sports Facility.

LILLE, France, (Reuters) – Wales produced a stunning upset to reach the Euro 2016 semi-finals after Hal Robson-Kanu's superbly fashioned goal and Sam Vokes's late header secured a 3-1 comeback win over Belgium yesterday to set up a clash with Portugal.

BORDEAUX, France, (Reuters) – Title contenders Germany will come face to face with their ultimate tournament nightmare when they take on Italy in their Euro 2016 quarter-final in Bordeaux today.

Despite possibly being eligible to represent Canada in the future, recently capped Golden Jaguars international Shaquille Agard said that his intention was to always represent Guyana on the international circuit.