The Golden Jaguars got their first win in Group F of the Digicel Caribbean Cup when they defeated St. Vincent and the Grenadines 2-0 in their final group match at the Manny Ramjohn Stadium yesterday.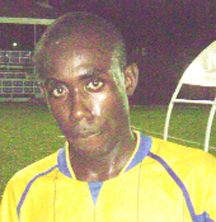 The Guyanese needing a big win to put themselves in with a good chance off advancing to the final stage, got two second half goals and must now hope that Trinidad and Tobago inflict a big defeat on Haiti in the final match which was contested later yesterday.
Guyana enjoyed the better of the play in the first half but could not find that final touch to make it count. Time and time again their play was stifled at the end of the SVG penalty area and many promising runs were aborted by a sturdy SVG defence.
The teams went into the change rooms locked at 0-0 and Guyana, needing the win to press ahead after they lost 1-2 to Trinidad and Tonago, took the attack to the Islanders in the second half. There, persistent pressure paid off in the 62 minute, when Anthony 'Awo' Abrams dissected the SVG defence and presented Devon Millington with the easiest of chances and he made no mistake in tapping it in.
With a 1-0 lead Guyana continued to push forward, in search of the bigh win.
They got their second item in the 76th minute  through a wonderfully struck goal by the talented Sean Cameron.
Cameron collected a cross from the right side trapped it on his chest and volleyed into the net, to send the sprinkling of Guyanese fans into celebrations. In the remaining minutes the Guyanese pressed for further goals but were denied, leaving their fate in the hands of Trinidad and Tobago.
SCORES: Guyana 2 (Devon Millington 62nd, Sean Cameron 67th) vs SVG 0.
TEAMS:
Guyana – Ronson Williams, Derrick Carter, Howard Lowe, Charles Pollard, John Rodrigues, Sean Cameron, Jake Newton, Chris Bourne, Chris  Nurse, Ricky Shakes, Anthony Abrams, Devon Millington, Dwain Jacobs, Dwight Peters, Philbert Moffat, Warren Gilkes, Dwain Ali, Walter Moore, Shaun Beveney and Eusi Phillips
SVG: Chad Balcombe, Wendell Cuffy, Seinard Bowens, Paul Farrell, Damol Francis, Emerald George, Joel George, Narel George, Dorren Hamlet, Kenyan Lynch, Jolanshoy McDowald, Oscar Nero, Roy Richards, Reginal Richardson, Myron Samuel, Shandel Myron Samuel, Dwayne Sandy, Cornelius Stewart, Durwin Ross and Wesley Charles
Around the Web