National Sevens rugby coach and player, Theodore Henry has a comprehensive training regimen for the national Sevens rugby squad as they enter the preparatory stage for the International Rugby Board (IRB) Sevens World Series on February 12 and 13 in Las Vegas, United States.
A major part of the national Sevens squad's preparation includes extensive "gym-work" as Henry explained when contacted by Stabroek Sport yesterday via telephone.
Henry disclosed that the gym work,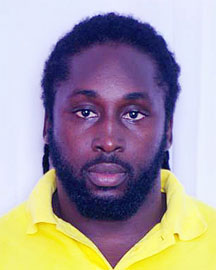 which the squad has undertaken from Monday last, is part of his own programme that he is now implementing and the team will be drifting away from the way they had prepared for previous international competitions.
"Most of the things [training] will be different because I have my own views on the team's preparation," said Henry.
The national Sevens coach noted that the main reason the team will be shifting their focus to strength training and building mass in the gym during their preparation for the upcoming IRB Sevens Series is  because "size is a factor".
Henry related that a player's size plays a major part in the all-round competitiveness and strength of a team and this was recognized when the national team encountered world-class rugby teams at previous international competitions.
This was seen particularly at this year's IRB World Sevens Series in  February where they represented the Caribbean for the first time and the recently concluded rugby Sevens events of the Commonwealth Games.
At both events the national team lost all their games, except for their best performance which came when they held France to a draw in the last IRB World Sevens Series in Las Vegas.
"One of the things we discovered is that we need to hit the gym," Henry stated.
In comparison to top ranked rugby teams from superpower rugby nations, the national team in most cases doesn't match up in terms of size and this can be a disadvantage on the field as the national team's results proved following the IRB Series and the Commonwealth Games.
According to Henry, in addition to weight training which concludes at the end of the year, the squad will be undergoing plyometric training concurrently with the gym-work and will also incorporate weights into the plyometric exercises – a type of exercises using explosive movements to develop muscular power, especially bounding, hopping and jumping.
In addition, though no fieldwork will be done due to the current weather condition which causes the flooding of the rugby field in the National Park, the squad will be working on their cardio intermittently with jogging and other exercises around the inner circuit of the National Park.
Henry noted that the squad plans to take the field in "early January" to commence ball-work, fitness and the full cardio segment of their preparation "mid January" when they will begin focusing on in-game strategies and tactics.
Around the Web