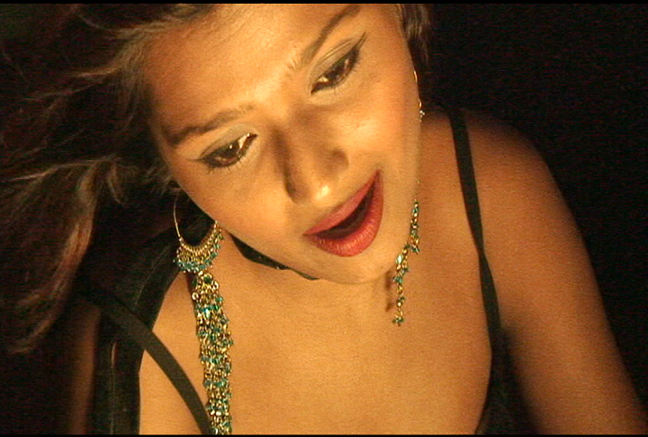 Excitement then shock is what 'Sugar Cake Girl' Fiona felt last Friday night when she won the Mash Chutney Competition.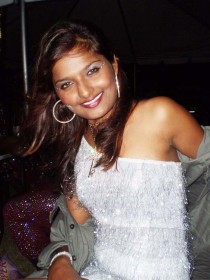 "It was stiff competition out there," Fiona said, "and I've always wanted the title. I've always wanted to win this competition. When they announced I'd won I couldn't believe it. I kept asking myself the rest of the night and then the next day, is it really me? Did I really win?"
The competition is among a string of events held annually for our Republic celebrations. This is the second time Fiona has participated. In 2007 she grabbed second place.
After about two years off, following the birth of her youngest child this lively beauty returned to the stage, this time with "I Want a Strong Man" to wow the crowd and judges at the Chutney competition.
Fiona, 30, was a dancer before she started singing. She was first approached by a local producer who asked her if she would like to "give it a go". Laughing at the memory, Fiona recalled that she had told the producer she could not sing.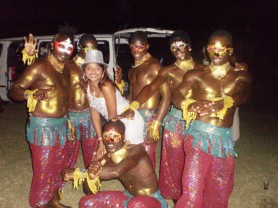 "It took me three months to sing my first song," the chatty singer recalled. "I had to get the right note and beat and so on."
More than a decade later, Fiona is definitely worth listening to as she sings about her experiences and humorous episodes from our Caribbean society. She is also quite a package on stage and keeps the crowd well entertained with her Indian-flavoured dancing.
Dancing, she said, is very important to a performance so she always ensures that she had good dancers with her. Fiona used the X Factor dancers for the competition last week.
She has been with the popular Chutney group the Sugar Cake Girls for about 10 years. Over the years they've churned out hits like "Stupidy", "Good For Nothing Man" and "Bread and Cheese". Fiona is also no stranger to the music video and told The Scene, during a telephone interview recently, that she's already working with another artiste to create one for her winning song, "I Want a Strong Man".
Fiona has been home for a while and currently lives on the East Bank Demerara. She was looking for something new to come back with, she said when asked about the inspiration for her song, and kept thinking about what she could write.
In her neighbourhood, she said, there is a lot of construction being done.
"I looked around and I noticed that most of the construction workers are bony and that's when the idea for 'I Want a Strong Man (to Love Me)' started to form," Fiona said. "I thought to myself that, hey, these men should be strong and I took it from there."
Her winning song, she said, was created with sheer entertainment in mind. She knew that she would have to come up with something to get the crowd going and judges tapping their feet.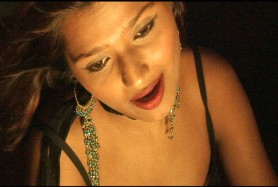 Fiona was born on May 23, at the Suddie Hospital. She lived in Lima, Essequibo until she was two before moving to Lot 10 Company Path, Georgetown.
Her legal name is Sechitra Singh.
"I love my Indian name," Fiona said. "You know  most of us Indian people have our long names which most people can't pronounce well and then we have our call names at home. Of course mine is Fiona and it just stuck when I hit the Chutney business."
For now Fiona will be merging motherhood with her music career. It's going to be exceedingly tough, she said, as she's now re-introducing herself to the Chutney scene.
Meanwhile, she complimented the competition's coordinator Neaz Subhan for his great work. Since 2007, she said, the quality of the Mash Chutney Competition has greatly improved.
"We're not at the same level with the competitions in Trinidad yet," she pointed out, "but with a little more work we'll get there."
She said too that they had a peaceful audience at the competition last week. A few years ago, Fiona recalled, she had attended a show in Bath Settlement and things got out of control with the crowd.
"There were two guys fighting for a lighter and one big argument started. Well of course in that area cutlasses are popular. So all of those who got involved in the fight went and got their cutlasses and they started to run everyone. It was scary and I can tell you my crew and I didn't waste any time running back to our bus for safety."
Thankfully, a lot more is being done in terms of security at these competitions and shows. Crowds, she said, are now being monitored and a great effort is made to ensure that a nasty situation does arise out of a petty disagreement.
"I don't think glass bottles and so on are allowed in the shows now and persons are being scanned," Fiona said.
While we have come a long way, she said, we still have a lot more to do. Guyana has home grown talent which is fresh and good. We need to invest in this talent, she urged. ([email protected])
Around the Web