Once you make your own granola, trust me, you'll never go back to the store-bought stuff. It's easy to make, it's delicious and it's healthy. And, be warned, it is totally addictive!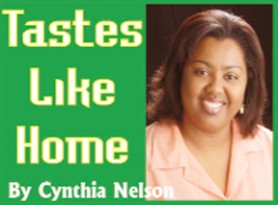 Granola is a type of cereal that is made with rolled oats. While oats is the main ingredient, granola allows for things such as dried fruit, nuts, seeds, wheat germ, etc, to be added to it. Please do not confuse granola with granola bars, because while both may have some of the same kinds of ingredient, Granola bars are generally less healthy as they contain high quantities corn syrup, chocolate and other sweet, high-calorie fillers. Granola, on the other hand, is sweetened with natural sweeteners such as honey and agave nectar, and I once made mine with maple syrup.
The addition of other ingredients such as seeds, nuts and wheat germ to granola elevates the protein and dietary fibre levels of the cereal.
Granola can be used in a myriad of ways – as a cereal, a snack, and a part of a crumble topping for baked goods; tossed into a food processor and ground fine, it can be used as a crust for cheesecake or other such baked goodies. I have been known to throw in a handful of granola along with the fruit to make my morning smoothies.  Turn your yogurt into something special with a generous sprinkling of granola on top; it works well with porridge too. Hey, have some with your ice cream, sorbet, fruit salad and even fresh fruit! Honestly, it is one of those things that will serve you well.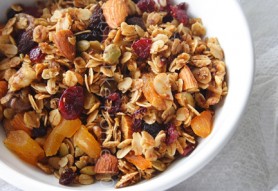 Making your own granola serves dual purpose – it's bound to be healthier because you know what's going into it, and you can add more ingredients to increase the fibre and overall nutrient content. Secondly, we find ourselves in a time where we have to watch every cent we spend, therefore, buying the ingredients and making the granola at home will save you money.
Below is my granola recipe, but please, feel free to play around with the ingredients, use what you have, add what you prefer or like. Granola is very flexible and therefore the flavourings and ingredients can be varied.
Cynthia's granola mix
Ingredients
4 cups rolled oats
½ cup wheat germ
¾ cup pumpkin seeds
1 heaped cup whole almonds, roughly chopped
1 teaspoon ground cinnamon
¾ teaspoon salt
½ cup canola oil
½ cup honey
½ heaped cup raisins
1/3 cup apricots, chopped
½ heaped cup dried cranberries
Equipment
1 large bowl
1 large spoon
1 large cup
1 whisk
1 large baking sheet
1 flat spatula
1 wire rack
1 large jar or container with an air-tight cover
Directions
1.  Preheat oven to 325 degrees F with the rack in the middle
2.  Add the oats, wheat germ, pumpkin seeds, almonds, cinnamon and salt to large bowl and toss to mix
3.  Pour oil and honey (in the exact order) into the cup and mix thoroughly then pour into the mixture and toss to thoroughly coat the oats etc.
4.  Transfer the mixture to the baking sheet and use your spatula to spread it out evenly
5.  Bake in oven for 25 – 30 minutes tossing the mixture and spreading it out evenly every 10 minutes until done. You don't want the mixture to be dry; it should still be a little sticky when you take it out of the oven. Don't worry it will dry when it is cooling
6.  Remove the pan from the oven and immediately add the raisins, cranberries and apricots and toss to mix and spread out evenly. Place the pan with the granola on wire rack to cool; toss every 7 – 10 minutes and keep spreading it out evenly to cool. When cool, place in an air-tight container and store at room temperature
Notes
●  The main ingredients in granola are mainly the oats and some dried fruit. Use whatever nuts you have or like, same for the fruits. Wheat germ is optional as are the pumpkin seeds.
●  Play around with the spice flavourings as well
Cynthia
Comments

One day she took all of her savings and ordered camera equipment, giving in to the pull of photography; she has not looked back since.

Eight gorgeous young women will vie for the inaugural Miss Teen Yarrowkabra crown on Saturday, November 25, at the Yarrowkabra Gym.

Last evening 18-year-old Vena Mookram would have flown the Guyana flag high on stage at the 67th Miss World pageant at the Sanya City Arena in Sanya, China.

Come tomorrow night at the Giftland Mall patrons would be treated to the 'Best of Nothing to Laugh About' which would comprise some of the best skits that show did over the last ten years since it entered the entertainment industry.

At just minutes to midnight on Sunday, November 5, Cindyann Khan was crowned the new Miss Guyana Talented Teen, and Oshay Roberts the first ever Miss Princess Guyana before a large gathering at the Promenade Gardens.