Maria Benschop has had a fair amount of success with her comical sketches, 'Nothing to Laugh About', so much so that she is into her third instalment and is likely to press on after this.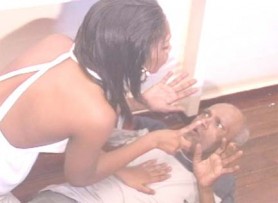 Maria has recruited theatre genius Richard Narine to direct 'Nothing to Laugh About 3' and based on early reviews of the show, Narine lives up to his name. The show also features Henry Rodney, who did not appear in the second instalment, but had impacted on the success of the original 'Nothing to Laugh About'.
Maria told The Scene in a recent interview that the production is more slapstick comedy than satire. Initially, she had set out to do satire and offer the public what she said was serious commentary in a comedic way. "We find that people love slapstick more than anything which is why the show has gone in that direction," she said.
'Nothing to Laugh About 3' will pay tribute to actor Joel Fraser, who was brutally murdered last year, by using material he wrote. Maria said Fraser wrote and previously performed in the earlier sketches of the show prior to his death. Maria co-wrote the other skits along with actor and comedian Linden 'Jumbie' Jones.
'Nothing to Laugh About 3' opened at the National Cultural Centre (NCC) last night and is also on tonight. Tickets are on sale at the NCC.
Around the Web