Six women, each weighing 225 pounds and over, are set to take to the stage on April 28, in their bid to become the Miss Big, Bold and Beautiful of Linden as the town gears up to celebrate its 40th Anniversary.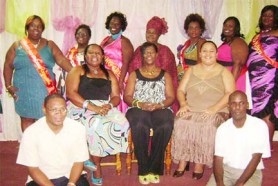 The six big women, Barbara Dougan Miss Ration Store Creek; Samantha Williams, Miss Mother Evans Creek; Nichole Brian, Miss Binning Creek; Marlyn Baker, Miss Jack Luther Creek; Joann Regis, Miss Theatre Creek; and Shundell Parks, Miss Kara Kara Creek are being trained by Norma Allicock for the show organized by the Triple B Promotions.
At a simple sashing ceremony held at Jacks Diner on Monday evening, the Public Relations Officer of Triple B Promotions said the women would be showcasing former creeks of Linden as a peek into the history of Linden as this year's activities coincide with the town's 40th Anniversary. In addition the women would be embarking on a feeding programme for ten select children in their community as criteria for participation on Friday.
The contestants will be judged for the best body, beach, casual and cocktail wear, best smile and congeniality in addition to the first, second and third place prizes. They are set for a motorcade through the town of Linden today as they seek to promote the event.
The Big Bold and Beautiful pageant is one of the main activities on the calendar of events for this year's Linden Town week celebrations. Among the other main activities is the official opening ceremony tomorrow at the Linden Mini Bus Park, Wismar Creole Night and the Linden Fund USA sponsored Shades of Yellow dance at Poker Street and the Christianburg Hard Court respectively. The Linden Expo is scheduled for next Friday, April 30.
The Linden Fund would also be featured in the hosting of two days of educational conferences for teachers and senior officers of the Department of Education and a Spelling Bee competition among primary schools in Linden. The Rotary Club of Demerara, GT&T and Mori J' Von Comedy are among the promoters who would be executing activities. Parachuting, the Link Show, sporting activities, arts, craft and farmers' exhibitions also form part of the week long celebrations. Seven young ladies are also expected to participate in the Miss Linden Town Week Pageant this year.
Two new entertainment establishments are also expected to open their doors in time for the town week activities. One is at Wismar Housing Scheme and the other in Greenheart Street Mackenzie. Mingles would usher in the celebrations at Shanghai's place in Amelia's Ward on Sunday night. Catering for the mature audience, Barrow's restaurant and lounge will host an evening of elegance when the Mr Cool Show would be launched. Mr Cool is a national stage show set for December this year at the Mackenzie Sports Club.
Around the Web