The Miss Guyana Earth pageant will kick off with a National Dress Competition for the contestants next week, the first in a string of scheduled events to promote the environment conscious affair.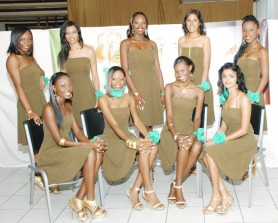 New York-based designer, Roger Gary will host a fashion show as part of the offerings for the night. The show is set for May 25 at Princess Hotel from 8 pm. Tickets are $2000.
A second fashion show dubbed, 'Elements of the Earth' will follow on May 29 and on June 13 the contestants will strut their stuff for the swimsuit competition. The Miss Guyana Earth pageant is slated for June 26.
Simpli Royal, which is hosting the Miss Guyana Earth Pageant says on its website that part of its mission is to organize and participate in a variety of environmental and educational projects while promoting the pageant, with the specific aim of educating the public and encouraging them to preserve and protect the environment.
The winner of this pageant will represent Guyana at the Miss Earth Pageant in Manila, Philippines on December 4, this year. Now in its tenth year the Miss Earth Pageant attracts some 80 – 90 candidates from all over the world.
Around the Web