Hi Everyone,
This morning I woke up early as usual but I was unusually ravenous. I felt like toast and tea but given that I don't use bread regularly, there was none in the house. I could make some pancakes – nah, not appealing. Then I thought, how about some toast, scrambled eggs and cheese. Yeah, that would work, if only you had bread! I lay there staring at the ceiling; I liked the idea of a batter simply because batters cook up quickly. How about putting everything I felt like eating, together – the batter, the eggs and the cheese. And then it struck me; I'll make a quick bread!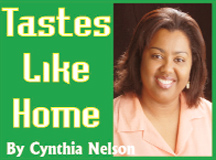 A quick bread is a type of bread that is made with chemical leavening agents such as baking powder or baking soda. Breads made with yeast take much longer to prepare; there is the proofing, rising etc. A quick bread, on the other hand, needs no resting or rising, simply mix the ingredients together and bake right away!
Quick breads vary widely in flavour and texture. Scones, muffins and biscuits are counted among quick breads. This means that quick breads can be sweet and they can also be savoury. Making a quick bread is simple and easy, and that is why it is a highly recommended form of bread for people just learning to cook. It is dependable and not temperamental like yeasted breads, which can vary greatly depending on external factors such as temperature of the ingredients and atmosphere.
You need five basic ingredients for a quick bread – flour, leavening (baking powder, baking soda), fat (butter, margarine, shortening or oil), eggs and milk (or some other liquid). What you add beyond these ingredients is a matter of your preference for flavour and texture. Think of it as a master recipe.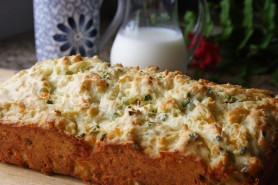 There are three basic ways to mix a quick bread and that mixture depends on the type of quick bread you are making. Remember I mentioned that scones and muffins are also types of quick breads.
The blending method – (aka the muffin method, the stirring method and the quick-bread method) – with this method the wet and dry ingredients are measured separately and mixed separately and then the two quickly added together until just combined. Because air would have been whipped into the eggs, you would not want to over mix the batter/dough. If you over mix the batter/dough the quick bread will not be airy and light.
The creaming method – this is the method used for cake batters. The butter and sugar are creamed together first, then eggs and flavourings added, followed by the dry ingredients and other liquid. Just as with the blending method, you do not want to over mix.
The biscuit/shortening method – use this method for scones, biscuits and piecrusts. The ingredients used for this kind of mixture should be cold, especially the fat (butter, lard, shortening). The cold fat is cut into the dry ingredients and very little cold liquid is used to bring the ingredients together. The fat melts during baking and causes the baked goods to rise and adds flakiness. Overworking the dough will cause the fat to melt outside the oven and will result in a tough finished product.
The consistency of the dough or batter of a quick bread also varies as a result of the method used for mixing. Some batters can be poured, others have to be dropped and in some cases you will have a stiff dough.
If you are ever looking for something to whip up quickly, seriously, you have to try making a quick bread.
So here's the recipe for the quick bread I made.
Cheese & Herb Quick Bread
Ingredients
2 cups all-purpose flour
2 teaspoons baking powder
¾ teaspoon salt
¼ teaspoon white granulated sugar
1 tablespoon minced fresh thyme
1/3 cup sliced green onions (white & green parts 1 + ½ cups grated sharp cheddar cheese (New Zealand, England, Australia)
3 eggs, room temperature
2 tablespoons melted butter (unsalted)
½ cup whole milk, warmed (115 degrees F)
Equipment
1 greased loaf pan
1 large bowl
1 whisk
1 medium bowl
1 hand mixer
1 rubber spatula
1 wire rack
Directions
1.  Preheat oven to 350 degrees F.
2.  Add the flour, baking powder, salt and sugar to large bowl and mix thoroughly.
3.  Add and stir in thyme and green onions to the flour mixture.
4.  Add cheese and toss to mix with other ingredients. Set aside.
5.  Whisk eggs in medium bowl until frothy.
6. Pour in melted butter and keep whisking to fully incorporate (about another 35 seconds).
7.  Pour milk into flour mixture followed by beaten eggs and fold the wet and dry ingredients together with the spatula until just combined. You will have a sticky dough.
8.  Transfer dough to greased pan, smooth the top to level and bake for 30 – 35 minutes or until a skewer inserted comes out clean.
9.  Remove pan from oven and let cool on wire rack for 10 minutes, then remove the bread from the pan and continue to cool on rack.
10.  Cool for at least 35 – 40 minutes before cutting with a serrated knife.
11.  Serve as you please.
Cynthia
Cynthia@tasteslikehome.org
www.tasteslikehome.org
Comments

Nigel Butler, a former Burrowes School of Art student, is making great strides with his unusual artwork around Guyana.

The Guyana Ballroom Dancers Association (GBDA) hosted its third show and dance off last Saturday night at the King Solomon Hotel (Main Street Plaza).

Conscious/Reggae Guyanese artiste, Roxroy 'Arkaingelle' Young returned to Guyana at the beginning of this month to launch his second album 'Tru Da Fyah' which he did at the Guyana Rastafarian Council Headquarters.

Not a man of many words, Daniel Sears lets his photography speak for him and if, as the saying goes, 'a picture is worth a thousand words' then Daniel's pictures tells double for each one of them.

Two-time Calypso Monarch, two-time Chutney Monarch and five-time Shanto King, Roger 'Young Bill Rogers' Hinds is gearing up for three competitions in the upcoming Mashramani season.