Hi Everyone,
Here in the Caribbean we have a rich food heritage centred on 'ole time' bakeries and bread vans. A couple of months ago, friend and fellow blogger, Chennette, reminisced about the bread vans and bakeries in her hometown in Trinidad. So many of us read that post shared our own memories of bread vans and bakeries. Though the mode of sale was often similar, sometimes the things on sale were different. In Guyana, one of our specialities was Chester Cake. I suddenly felt a longing for that dark, dense cake sandwiched between two pieces of pastry.

Chester Cake, also known as Gur Cake, Fruit Slice and less flattering as Donkey's Wedding Cake has its origin in the bakeries of Dublin, Ireland, all the way back to the 1930s. The creation of the cake was a way for the bakeries to use up old bread and cakes and still make money! The Chester Cake made its way to Guyana through our European ancestors.
Back in the day, Chester Cake used to be popular and highly sought after but I am not sure that the same holds true today, amidst the vast array of other fare on offer such as pizzas, calzones, cheesecakes etc, the "fancier" things so to speak. Nevertheless, created out of a need not to waste, it seems only fitting that the Chester Cake should make a comeback as we find ourselves in a time when we cannot afford to waste anything. That is not to say that any time is a time to waste anything.
Chester Cake is easy to make and it's good at any time. Makes for an excellent dessert or it's perfect for afternoon tea. While it can be served with ice cream or custard, it is best eaten as is. Chester Cake is, however, one of those things that if you have it for the first time and it's not a good one you can swear off of it – the cake would be dry, hard and chewy or the sliver of "pastry" would be an abomination. But, if you have a slice of moist, fruity, well-spiced cake with a buttery, rich, thick pastry, you will find your self buying more bread than you need just so that you can have the excuse to make Chester Cake. Often.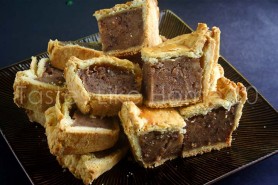 It is a pity that many of these treats are not made on the scale as they used to – times have changed and tastes have changed too – some for the better and some for the worse. But Chester Cake, coconut buns, rock cakes, turnovers, pones and salara, to name a few, are among the things that add to the richness of our food heritage. With globalisation and a rapidly homogenising world, it is important that we have some cultural identity so that we can stand up, be identified and counted.
Chester Cake
Makes 2 (9 x 5) loaves
Ingredients
1 + ½ lbs short crust pastry dough
6 – 7 cups crumbled day-old bread (white or brown)
1 teaspoon ground cinnamon
½ teaspoon grated nutmeg
¼ teaspoon salt
1 + ½ cups brown sugar (preferably Demerara)
1 + ½ cups water, room temperature
2 teaspoons vanilla essence
1 + ½ cup blended, rum-soaked fruits (see note below)
2 ounces of unsalted melted butter
2 ounces vegetable shortening, melted
1 tablespoon molasses (optional)
Flour for dusting work surface
For Egg-wash
1 egg, room temperature
1 tablespoon tap water
Lightly beat egg and water together
Equipment
1 large bowl with cover (use plastic wrap if you do not have a cover)
1 large spoon
2 (9 x 5-inch) loaf pans
1 rolling pin
1 small knife
1 small bowl
1 fork
1 pastry brush
1 Wire rack
Directions
1.  Add bread, cinnamon, nutmeg and salt to large bowl and toss.
2.  Dissolve sugar in water and stir in essence. Pour over bread mixture.
3.  Add fruits, melted butter and vegetable shortening to mixture along with molasses if using. Thoroughly mix all the ingredients together.
4.  Cover and let soak for as long as you can. Refrigerating overnight is great, but soak for at least 2 hours so the flavours meld. Bring mixture to room temperature before baking.
5.  Preheat oven to 350 degrees F with the oven rack in the middle.
6.  Divide pastry into 2 large equal pieces then further divide each half into ¼ and ¾ piece; you will now have 4 pieces of pastry. For each loaf, you will need one of the ¼ pieces cut as well as a ¾ piece. Set aside the other 2 parts in the fridge until ready to assemble the other loaf.
7.  Flour work surface and rolling pin and roll the large piece of pastry out to 13 x 9 inches. Flour rolling pin again and from one end, roll pastry over rolling pin, transfer to loaf pan and unfurl. Gently press pastry into pan, moulding the pan. Let the excess hang over the pan.
8.  Spoon in half of the mixture into the pastry-lined pan and set the remainder aside.
9.  Now roll out the ¼ piece of pastry to 10 x 6 inches. Flour rolling pin, roll pastry onto rolling pin and unfurl over the mixture in pan. Gently press the pastry onto the mixture as well as the pastry that is moulding the pan, you want it to seal the two pieces of pastry, so press firmly
10.  Cut off the excess pastry and crimp the ends together, either with your fingers or a floured fork. Transfer pan to fridge and assemble the other loaf, repeating from steps 7 – 10
11.  Brush the loaves liberally with egg wash; be sure to brush the edges to secure the seal even more. Prick the pastry with a fork in several places, this is to let out some steam and transfer to oven
12.  Bake for 90 minutes (1 ½ hours)
13.  Remove from oven and let pans cool on wire rack. Cool completely in the pan and then carefully and gently remove the loaf for the pan
14.  Cut into squares and serve. The pastry will crumble but that's okay, it is what makes the Chester Cake what it is.
Notes
●  For blended fruits, use a combination of raisins, currants, prunes, preserved cherries and mix peel. Add to food processor and grind using rum to moisten the mixture.
●  You can use a large square pan with 3 – 4 inches of deepness to make this Chester Cake.
Around the Web