Hi Everyone,
For the past few years, The Guyanese Association of Barbados Inc (GABI) has held an annual Taste of Guyana event in celebration of Guyana's Independence. This year, they decided to do like celebrity chef, Emeril Lagasse, and kick it up a notch – with a duck curry competition! And yours truly, was one of the judges.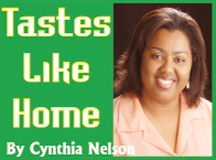 Come with me.
The day was glorious. Perfect in every way for an outdoors cookout. Upon arrival, I was immediately drawn to the cooking area – long tables joined together, upon which sat a row of coal-pots filled with coals, all waiting to be fired up. The participants were busying themselves, setting up their workstations, taking out ingredients, pots, plates, forks, dinner napkins etc.
Soon the coal pots were lit, it was a beautiful sight to behold as the gold and amber flames rose, dancing in the air in tune with Dave Martins and The Tradewinds' "Sixteen Sexy Chickens", blaring over the loud speakers.
Three of the competitors came armed with pressure cookers while the other three used heavy-bottomed pots with tight lids. Pots on, oil in, time to chunkay!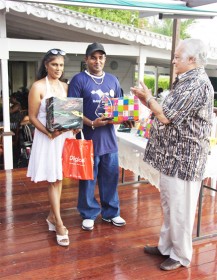 All the participants had been given ducks that were freshly plucked and fire-roasted (charring the skin to impart that unique, one-of-a-kind smoky flavour). As I walked around, I chatted with each participant, curious to find out how they went about starting their curry. Some made a curry paste – ground garam masala with herbs, garlic, onions, hot pepper and curry powder – that was sautéed in the hot oil to which the meat was then added. The meat was allowed to cook for a while to be infused with the spice paste before liquid was added to cook the curry.
Others made the curry paste and chose to marinate the duck meat overnight with the paste and then add it to the hot oil, eliminating the need for sautéing the spiced paste.
There was one participant who shared her "secret" of using two types of herbs in her curry preparation – dried and fresh. She marinated with a fresh herb paste but used a dried herb and masala paste to cook the curry.
As a food writer, I am always interested by people's differing approaches to cooking. It is an opportunity to learn something. This duck curry competition was a perfect example of how a dish could be interpreted in varying ways to produce a single result – in this case, curried duck. Like I always say, there is no right or wrong way to cook something, standards set are based on our own tastes, our own knowledge and our own family traditions and how we grew up seeing certain things done. It's your food, your way.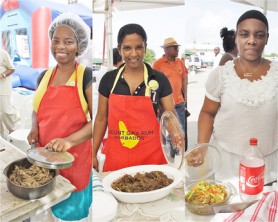 With the pressure cookers hissing and the smell of curry wafting through the air, I took a leisurely stroll around the grounds to check out the other food stalls offering a taste of Guyana. The duck was going to take a while to cook, so I had some time. Many Guyanese favourites were on offer – pastries, Chester Cake, Black Pudding, White Pudding, Cook-up Rice, Mettagee, Pepperpot, Chowmein, Fried Rice, Chinese Roast Chicken and Roast Pork, Crab Curry, boil and fry Ground Provisions, Fish Cakes, Souse, Gilbaka Curry, Fried Fish, Phulourie… like I said, a taste of Guyana.
A little less than two hours after the start of cooking, it was time to judge the duck curries. My fellow judges were Sir Sridath Ramphal, Cita Pilgrim and Fabiola Wong. Armed with clipboards, scoring sheets, and pens we set about tasting the six curries on offer. The categories and points for the judging system were as follows:
Presentation                                                                10 points
Aroma                                                                            10 points
Texture                                                                          10 points
Flavour                                                                          10 points
Work environment & overall impression        10 points
Each contestant had the opportunity to score a total of 200 points.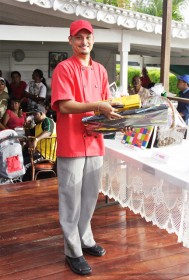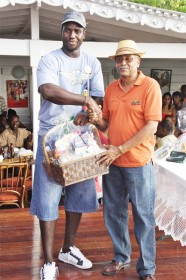 Every one of the six curries offered up for judgement was different. The difference in some cases was subtle while in others it was significant.
The husband and wife
team of Ramesh Seegobin and Asha Matadin were the first place winners. Imran Ally came in second and Vaughn Griffith was third. Each prize was a combination of items ranging from trophies to small electrical appliances, Eddy Grant autographed CDs and DVDs, rum, cell phone, food hamper and gift voucher.
The competition was a success; actually, I think that it is fair to say that the entire day was a success.  Looking forward to next year!
Around the Web