By Iana Seales
What it is about fashion shows and models that draw people and hold interest while triggering rumours that are way too outrageous to be anything but gossip?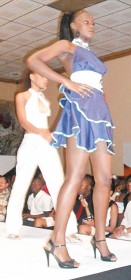 Like the rumour on Sunday night at Sonia Noel's 'Glamorous' show that one of the amateur designers was short on pieces for her collection so she stripped a few patrons, parading their clothes on stage as her own.
"It actually happened," a source said this week, insisting that the rumour about the young designer was true. Organisers have denied it saying they heard nothing relating to such deception; the source insists saying her outfit was borrowed temporarily!… only at fashion shows.
But if Sonia could have predicted how things were going to turn out she could have easily sold it as the introduction of a few young designers and that alone. To call it anything more would be reaching because the models this year were about as exciting as fruit punch; it depends on whether you like punch. That is, the models outside of the plus-size category.
The plus-size models quite frankly rescued that aspect of the night, bringing attitude and panache to a competition that was crying out for it. It was the first time in the history of the competition that plus-size models were participating and it begs the question, why only now? The obsession with slim models is noted, every designer wants to outfit a slim figure yet the full-figured women on stage on Sunday night offered something more. They also looked really good, particularly the winner, Latoya Whitehead.
The fact that Guyana's top models have now been increased to three individuals; one male and two females including a full-figured woman is one of the real stories coming out of the show. The top models were Steven Baggot (male); Alana Phoenix (female) and Latoya Whitehead (plus size).
The interesting segments of the evening came when the collections of a few new designers were unveiled on stage; not since the edgy designs of the now relocated Telford Sisters first debut has amateur looked that good. It was refreshing to see the simple yet stylish line of jersey tanks and dresses from designer, Michael Kelman. But it was the designs of Michel De Abreu and Natisha Johns that signalled how strong young fashion is and where it is going.
De Abreu seemed obsessed with the female figure and he celebrated it even baring it at times in the face of a sometimes stunned audience. He appears to have a thing with breasts and on Sunday night, a few of his models bounced on stage showing more than his outfits; perhaps that is where some of the appeal was. In one case, De Abreu used feathers to cover the nipples of a model and while it has been seen before on a local stage, he somehow man aged to bring it back with some amount of sexiness. It was interesting and fun to see this young designer bring sexy back.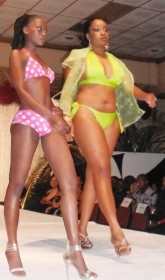 But then there is sexy and potent sex appeal, which is the difference between the collections of Michael De Abreu and Natisha John. De Abreu emerged runner-up to Natisha Johns and it was somewhat easy to see why; she delivered on every piece in the collection and from the opening two pieces the line was on fire! The young designer called her line of mostly cat prints and leather, 'Feline' and it sizzled from the opening swimsuit.
What was exciting about Natisha's line was the fact that she was extremely playful with the pieces and she mixed it up; from the micro-minis and barely-there swimsuits to tempting little dresses and flowing skirts. She threw in leather jackets and leggings, big belts and body suits; the entire line was screaming "wear me". The male pieces were interesting and a man in prints, very little of it, is as irresistible as they come.
Glamorous turned out to be more about the designers and less of the models. Another notable collection was David Clarke's 'The colour of lust is blue' line which stood out because of the detail in every piece and the rich colours he used. Designer, Candacy Mc Lean also showed some promise.
The announcements were too many to keep up with; top models in the various categories and designers and stylists and lastly, chefs. It turned out that Sonia Noel was able to put on one of the more impressive shows in years since the competition started, or it simply was the best she has had so far.
The winning stylist was Mark Adams and Ryon Berkley runner-up, and for the chefs Samantha Mosley emerged the winner while Kester Hinds was the runner-up.
Around the Web