By Iana Seales
On the night she unveiled a full collection here, Natisha Johns sensed there was something special about it. Models were lining up to wear the pieces and others were unhappy about the fact she went ahead and wrapped it up without taking their measurements.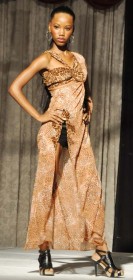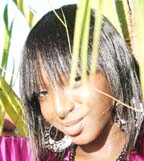 But it was a 15-piece collection, which meant that she only needed 15 models. Natisha laughed when she recalled how people were openly venting about "feeling left out".  She could only manage a polite response to those who felt sidelined, which was that she randomly selected the models.
It was easy to see why the models were complaining, well those who felt left out, the collection was hip, new, daring and full of attitude. Natisha decided on leather and cat prints. Why? She left it was edgy enough to pull off the ideas floating around in her head, but more importantly, she wanted to be different. Not only was she different, she managed to stitch up a win at Sonia Noel's Designer Portfolio competition this year.
"I had so many ideas, so many things I wanted to do and finally I decided on 'Feline'…the idea was to show a collection which said strength and which was bold, new and really edgy," Natisha said in a recent interview. She told The Scene that the collection which has turned her into one of the hottest new designers around almost didn't come off.
The pressures of a competition where everyone wanted to win and at any cost overwhelmed Natisha and she wanted to quit the competition. She said fair competition is "okay", but she draws the line when people start hitting "below the belt", Still, Natisha stuck it out and after many sit-downs with her family she decided that fashion is where her calling is and what she wanted to do.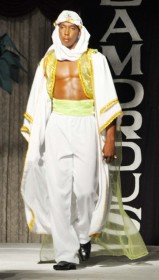 Her 'Feline' collection clawed its way onto the stage at 'Glamorous 2010' and it was pretty clear from the opening number that Natisha was going to be hard to top. The entire collection was refreshing and what was interesting was her take on the micro-minis and what people refer to as "clubbing" outfits. Natisha debuted a fierce line; mixing up leggings, skirts, swimsuits, jackets, dresses and shorts. It was a parade of tempting pieces.
What was even more interesting was the fact that her collection did not look amateur. She accepts the title, somewhat since she only started designing seriously in December 2009. Prior to that, the 19-year-old was living a regular life with big dreams as an immigrant in the United States. She left Guyana some two years ago, but is back home for now focusing on her work; her passion as she says.
The young designer disclosed that her break came last December when a friend asked her to design a few pieces for a fashion show in the US, and she instantly won praise. Subsequent to this, she was approached to design a lingerie line and that too turned out pretty good. Within a short while the young woman who left Guyana with big dreams was being paid "nicely" to design clothes for shows and she was happy to go along as the work came along.
In February this year Natisha came back to show a few pieces at a fashion show organized by a friend and while her clothes were celebrated she still found no reason to hang on. She went back to the US and then word of Designer Portfolio reached her.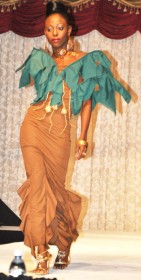 "I heard about it from a friend and honestly I had no idea what it was about. I called up my mom and asked her to find out for me and after a few of my sketches were reviewed I was asked to come back home, so I did…," Natisha recalled. She returned and joined the competition as designer and according to her, "it felt good at first".
Natisha went onto to work in groups and individually, growing in the competition and emerging victorious in one segment during the preliminary rounds. She said many of the other competitors were really focused which pushed her to stay on track though at one time she felt like quitting. "I just wanted to leave the competition," she said.
The final challenge where the designers are required to unveil a full collection was Natisha's main goal. She said that was the challenge which was really important so she started working on the clothes some three weeks in advance; the work actually ended on the day of the finals.
Natisha said she wants to dress women based on how they see themselves; her designs speak to a certain idea in her head but she is willing to work with every client to create something unique for them. She has no problem with someone who wants to walk in and take something from a rack which she designed for the runway.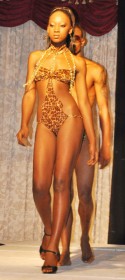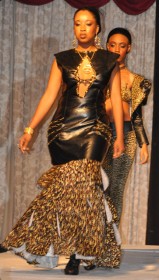 "If someone is looking for something casual, something hot I can bring it to life. I just need to know what you want and I could make it happen," she said. She is modest about how good she is, playing down her status as the hottest new designer to own any stage in a while. But Natisha said she has always loved fashion and that she spent years developing a deep interest in what was on the pages of Vogue, In Style and Vanity Fair among other fashion magazines.
She has plans to bring a new style to the local catwalk and points out that she is obsessed with European fashion. She said her roots are Guyanese, but that she will continue to mix things up as she grows in the business.
She was born in Mocha and spent time residing in the city, but she currently resides at Annandale, East Coast Demerara.  Natisha feels she could be a full-time designer and build a successful career out of her work. Her entry has been celebrated and the win this year has already boosted her confidence.
"I want to continue, I want to grow with this," she said. She said that people need only to stay tune because there is much more to come. If anyone is interested in Natisha's designs she can be reached on telephone number 690-9044. She is also working on a website where her designs among other things would all be in one place, but more importantly, she said it would be available to people anywhere with an internet connection.
Around the Web