By Oluatoyin Alleyne
Visually, he is one of the most unlikely reggae singers around but his groovy vocals when combined with some deep romantic or gut-wrenching lyrics command you to stop and listen and wish that you were wrapped up in the arms of that loved one or hold your head and shed tears for the sufferings of others.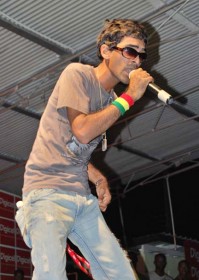 He may not know it, but Romeo Nermal's moniker is probably one of the best in local circles. Mystic, the moniker the singer uses, among other things is in reference to mystery, which is what surrounds this singer's increasing domination locally of the reggae genre. Mystic is one of the fast and upcoming artistes out of the Brutal Traxx Studio, and is certainly someone to watch. He has what it takes to entertain a crowd and keep them thirsting for more of the tantalizing vocals and lyrics.
Of course he is not the only one to use that moniker in the entertaining world there was the 1950s a US singing group called The Mystics and at present a hip-hop singer from San Francisco uses the same moniker.
But that's not why this local performer chose Mystic as his moniker. In a recent sit down with The Scene he recalled that he was just sitting at home and the name came to his mind. "I looked up the meaning and I said nice, but don't ask me what the meaning is now… And everyone when they hear the name they like it," he added.
Mystic always knew he liked singing from way back when he sang with his family in Sunday school. The Berbice born artiste, who spent most of his childhood days in Alboystown but now lives in Sophia, said his entire family sang in church and at that time he "never know I was doing something special.
"I always love music."
Mystic told The Scene about his days at Central High School where many days he sang for lunch money. "I used to like sing at lunch time and persons used to give me money and I would buy lunch. They just used to like hearing me," Mystic said with a small laugh. Those days he was always belting out Beres Hammond and Glen Washington hits, much to the enjoyment of his school fans.
His two best friends–they were females–in school were so impressed with his vocals that they encouraged him to enter a singing competition.
"Now I can't remember the name of the competition but I could remember I had to go to Vision Sounds and I met First Born and I started hanging around them…," he told The Scene.
He has definitely moved away from the days of singing in church but Mystic says he is still deeply grounded and his lyrics are about love and reality, when someone listens to his music there is a message.
It has not been an easy road as many local artistes would reveal, the music business in Guyana is not really profitable and persons have to really love the art form to continue with it. Mystic got so frustrated that at one point he gave up on his music and returned to the Corentyne, where he had spent some of his formative years, and went into barbering.
"But you know the music was always spinning in my head and while in Berbice I did some writing for schools and churches," he recalled.
Yes, Mystic is not only a singer but he also writes his own lyrics and is motivated by everyday life when he puts pen to paper.
After his Berbice hiatus, Mystic entered Guyana Star Search but was knocked out before the finals as initially he did not realize that contestants had to have three talents, singing, dancing and acting.
"I was no actor or dancer, I just love singing and writing and I wanted to drop out even before I get knocked out, but the organizer heard me singing and loved it, I even performed at the finals," Mystic said.
The Star Search finals was not only eventual winner Lisa Punch's big stage debut but it was also Mystic's as it was his first real public performance and it was on the stage of the National Cultural Centre. It was that performance that led him through the doors of Brutal Traxx where he remains until today.
"They, Brutal Traxx, are like family to me now. You know before them I never recorded and now I spend the whole day in the studios just singing and writing," he said.
He recalled that initially when he became known to the studio the powers that be "were asking me some silly questions… because you know I was good and they wanted to know where I was all this time."
The artiste said he just loves reggae and he would not go into any other genre. He does not want people to listen to him because he is of East Indian descent and sings reggae but rather because he is good at what he does.
"I am not checking on that. I am an Indian but I am a reggae signer and that is what I love doing. I am not doing any other thing and that is a lesson for some singers. Not because you know soca or dance hall doing good that you must drop what you singing and move to that, you must know what you good at and stick to it," he cautions.
Mystic admits that making it as a singer is hard. What he gets monthly from Brutal Traxx keeps his head above the water and while it is not much he said he understands the difficulties the owners of the studio go through in trying to keep their artistes afloat as music in Guyana is still on a down low financially.
His performance at the last Temperature Show which featured Tarrus Riley and Gyptian coupled with being the opening act of Akon's Carifesta show and a performance with Natural Black in Berbice are some of the most memorable public appearances for Mystic.
No one was more surprised than him when a Sudanese band, whose members now reside in Europe, and who were the first African band to win the World Sound Clash, contacted the studio to enquire about him.
"I still not sure how they hear about me or how they hear me sing but they contact the studio and they used my dub plate when they defend the title and that was really, really big," Mystic said.
He said the song they used was "Come So Far", which is now on an album with some of Jamaica's biggest reggae names. Of course he was paid for the collaboration with the band and they continue to elicit his assistance from time to time, Mystic revealed.
And he said while he has not had any formal voice training, he has been working on this and learning the techniques of not only how to make his voice better, but also how to take care of his body to ensure he continues singing for a long time.
Mystic is now working on his first album as he has only recorded singles and while he is still working on the title he told The Scene that some of his best songs include "No Love", "Don't Give Up", "GT Party", "My Life" and "Cry". The last mentioned song he said is one of his favourite pieces and it was inspired by the heart-wrenching story about a young Sudanese boy in a refugee camp which was featured on the Oprah Winfrey show.
Guyanese can definitely look forward to hearing more from this singer and things to come include two songs he collaborated on with Natural Black.
So fans of Mystic, stay tuned as this mystery man continues to reveal himself.
Around the Web