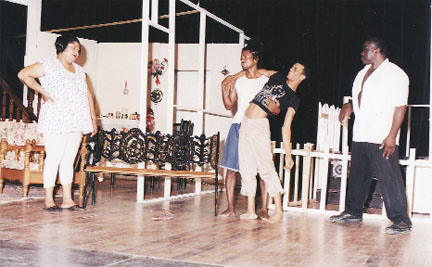 Local playwright and actor Godfrey Naughton is promising great entertainment when his play Two's A Crowd Too kicks off this weekend in Essequibo as part of a nationwide tour.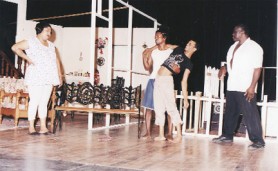 Naughton's play is essentially a continuation of Two's A Crowd written by the late Sir Ian Valz in the 1980s. According to a release, the play addresses themes such as love, relationships and marriage.  The main characters are an odd couple Albert and Agnes, who experience challenges from their gay neighbour Henry. The already shaky marriage of Albert and Agnes takes a twist when Albert befriends a fragile girl who is living on the edge of insanity.
"The laughs are raucously funny and thought provoking," the release said. The play's cast includes Michael Ignatius, Nicola Moonsammy, Miranda Austin, Kwesi Edmonson and Godfrey Naughton, while Simone Persaud is the stage manager.
The show will kick off this Saturday on the Essequibo Coast at the Anna Regina Multilateral School.  Admission is $600. On July 31 and August 1 the play heads to the Lichas Hall in Linden. The following weekend – on August 7 & 8, the play will be staged in the Ancient County at the New Amsterdam Multilateral School.
The price for admission is $700. On August 13 to 15, the play will then be held in Georgetown at the Theatre Guild. Tickets are available for $1500 or $1000.
Around the Web