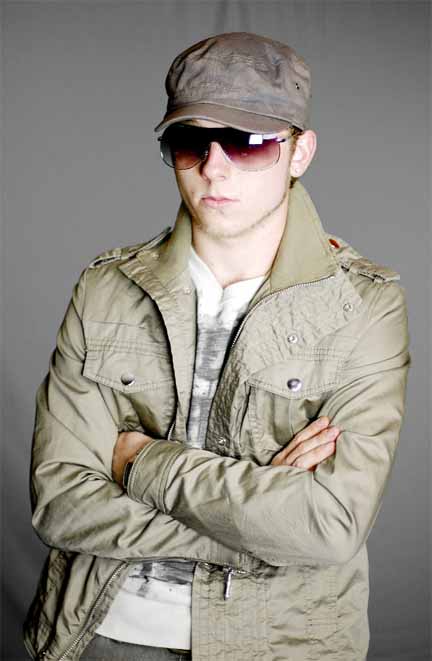 By Tiffny Rhodius
Emerging dancehall singer Robert 'Dublin' Hiscock is hoping that the lyrics and vibes of his songs will help people get pass his looks and take his music seriously.
Performing under the moniker Dublin, which he started calling himself after being constantly asked if he was Irish, Robert was first introduced to Guyana at the Temperature Concert held earlier this month.
The 20-year-old says that he became intrigued by the music genre back in 2003. "I think the most intriguing factor is I found it hard to understand," he said.
Dublin was born in England but spent most of his childhood in Guyana, because his father served here, first as the Deputy High Commissioner to Guyana and later retired in 2006 as the High Commissioner.
Dublin added that his schooling was obtained here in Guyana and while he currently resides in the UK, he says he feels more of a connection to Guyana and that is why he chose to launch his music career here. "I can relate more to Guyana. I can't live in the UK man," he said.
His actual creation of music however was not done until some time last year. "I first started making music a year and a half ago when I went back to the UK when I got some time off work and my studies.
"I first started making beats in my room with little equipment. I was using beats out of Jamaica at the time," Dublin said. From his room he created nine songs and with the aid of Facebook and YouTube he promoted himself.
In September last year, he returned to Guyana and met Jonathan Beepat CEO of Wildfire Entertainment, now his manager, and the two began working together.
Jonathan remembers his first encounter with Dublin. "When I first met him he was in this sleeveless shirt and short pants and says to me he wants to rap."
The first thought in his mind Jonathan said, was, "Here's this guy who didn't fit the image. It didn't seem like he would make it."
But Dublin managed to make an impression on the second encounter and Jonathan said that when he heard Dublin, "I thought it was really good."
The rest as they say is history. The plans to promote Dublin and his music in Guyana are extensive.
Currently, the singer is working on releasing a mixed tape which will be in stores while some of his tracks will be played on the radio, his manager said. Jonathan said that a "street ground promotion" is currently being done to expose the singer's music to the masses and work is also being done to get him to perform at the Hits and Jams Jamzone Summer Break. Included too are the release of music videos all to be done over the course of the next month.
Although the plans are extensive the newcomer says he is aware of the challenge he is up against launching his music in Guyana, "At no point have I thought this is going to be easy but you have to work hard to get what you want. I am aware of the challenge but what doesn't kill you makes you stronger."
Dublin pointed out too that no matter where he would have chosen to launch his music the challenges would have generally been the same.
"Part of me wants to put Guyana on the map like Eddy Grant did; that is the ultimate goal." He said though that for now he will settle with raising his star here in Guyana.
And as for his music, Dublin says he wants the Guyanese people to appreciate what he puts out because, "my experience in the UK has taught me a lot of things about race and class and I like to share my experience. There's some content that I'd love for people to pay attention to… to appreciate the music I put out."
True to his word his music offers diversity from feel good to heartbreak. Take for instance "Cyaan Undastan" a reggae vibe, which advocates working together and putting aside differences to live together while "Summer Time", the feel good music, is catchy and easy on the ears.
Outside of music, when in the UK Dublin is studying for his bachelor's degree in Business and Caribbean Studies and works part time as a bartender. "I think education is an absolute key. It helps a lot. Regardless of how successful my music becomes I want to finish my education.
"The plan is to do a three-month exchange at [Cave Hill Campus in] Barbados, University of the West Indies and depending on how the music goes, I'll definitely be coming back," he said.  (trhodius@yahoo.com)
Around the Web