Hi Everyone,
Ask anyone to identify a Greek dish and the iconic Moussaka immediately comes to mind.  However, Moussaka, an eggplant-based dish, has its origins in the Middle East and the Mediterranean not in Greece.

I first ate Moussaka many years ago while on a visit to Trinidad and Tobago. Talk about food travelling!
I was served a generous melange of meat sauce, vegetables, ripe plantains, and cheesy béchamel sauce. When I researched the dish and found out that it is traditionally made with eggplant, I was shocked and disappointed. I quickly put all thoughts of making Moussaka out of my mind. If you have been following this column for a while, you will know that I am not a fan of eggplant, except when fire-roasted and made into a choka or thinly sliced, dipped in a split pea batter and fried, to make biagnee.
Nevertheless, out of the blue, this past week, I kept thinking of the Moussaka I had that day in Trinidad. I read online that people have been making Moussaka with various other ingredients such as potatoes and zucchini in place of eggplants. I began to think that it must have been some creative cook that thought to Caribbean-ize the dish by making it with ripe plantains – long slices of fried ripe plantains. There was a certain umami flavour (heightened savouriness) that the plantains brought to the dish when combined with the other ingredients. And so I set about making Moussaka.
I wanted to stay as true as possible to the dish and so the only substitution I made was to use boiled ripe plantains instead of the traditionally used eggplant. I am always surprised when certain dishes turn out much better than I had hoped. The tasters raved.
One of the tasters who had never heard of Moussaka before asked, "So where did this dish come from?" "Ah," I said, "It would depend upon whom you ask."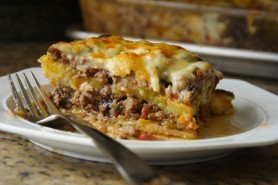 Moussaka is considered to be Arabic in origin, the word itself being a derivative of Arabic musaqqâ. It is a regional dish made and enjoyed by Turkey, Bosnia, Bulgaria, Macedonia, Serbia and Romania. Each country serves its own style of the dish but the basic ingredients of eggplant, ground meat and vegetables remain the same. Turkish musakka is a sauté of eggplants, green bell peppers, tomatoes, onions and minced meat served with a rice pilaf and seasoned yogurt. In the Middle East musaqqâ is served as a cooked salad of tomatoes and eggplants and served cold as part of a mezze (an assortment of appetizers).
The Bulgarian version of Moussaka uses potatoes instead of eggplants and pork mince in place of lamb or beef mince. The Greeks, like the Bulgarians and Romains, prepare Moussaka as a layered baked dish. Some top it with a traditional béchamel sauce (made of butter, flour and milk) or an olive oil béchamel sauce or a yogurt sauce. Whole eggs or egg yolks can be added to the sauce to firm up the topping for a rich, custard like look and taste once baked. Cheese can be melted into the sauce and extra sprinkled on top. A sprinkling of breadcrumbs on top can be substituted for the cheese.
Greek food expert, author and activist, Aglaia Kremezi, explains, "For today's Greeks, the real Moussaka, deliciously flavoured with ground lamb, is not an everyday dish. It is baked in urban homes as a treat for guests and family on special festive days".
Moussaka requires a lot of prep but it is absolutely worth it. Try the recipe.
Moussaka
(With plantains)
Ingredients
4 lbs ripe plantains (or 3 lbs large eggplants sliced into ¼-inch thickness)
3 large bell peppers, deseeded and sautéed or fire-roasted and chopped fine
2½ lbs ground beef (80% lean 20% fat). Substitute with ground lamb
1 teaspoon ground cinnamon
1 teaspoon ground all spice
Olive Oil
1 cup chopped onions
½ teaspoon red pepper flakes
1/3 cup currants
1 (14.5 oz) can diced tomatoes
½ cup water
Salt and pepper to taste
Béchamel sauce (recipe follows)
Béchamel Sauce
3 tablespoons unsalted butter
3 tablespoons flour
3 cups whole milk (or 1 ½ cups whole milk and 1 ½ cups full-fat yogurt)
1/8 teaspoon grated nutmeg
Salt and pepper to taste
1 heaped cup grated cheddar cheese plus extra to sprinkle on top
Directions
Remove the top and bottom tips of plantains and add the plantains to a large pot. Add water to reach the top of the plantains, set on high heat, cover and bring to a boil. Let boil until the skin of the plantains split. Drain and let cool. When cool enough to handle, peel plantains and slice lengthways. Set aside.
If using eggplants, pan-fry the slices gently without letting them cook through (you just want to make them pliable). If you like, brush the slices with olive oil and grill. Set aside.
Add mince to a large bowl and season with cinnamon and all spice.
Heat 3 tablespoons olive oil in large pan until hot, sauté onions until translucent. Add pepper flakes along with mince and cook, stirring a few times until the meat is no longer pink.
Add currants, tomato sauce and water (pour the water into the drained can to pick up any residue). Bring to a boil, reduce heat to simmer and let cook until most of the liquid has evaporated and the sauce has thickened. Season with salt and pepper. Set aside.
Preheat oven to 400 degrees F.
Line a baking sheet with foil. Brush a 13 x 9-inch casserole dish with olive oil. Place dish on top of lined baking sheet and set aside.
Assembling
Arrange one layer of plantains at the bottom of the baking dish (or eggplants if using).
Spread an even layer of sautéed or roasted bell peppers.
Add a layer of the meat sauce.
Repeat the layering – plantains, peppers and meat sauce.
Béchamel Sauce
Add butter to saucepot and place on medium heat. When butter melts and just begins to froth, add flour and keep stirring to mix the two together. Lower heat if necessary because you do not want to roux (butter-flour mixture) to gain a colour.
Add milk (or milk and yogurt if using), and keep stirring until there are no lumps. Turn the heat to medium (if you had turned it down).
Mix in nutmeg and let mixture come to a boil until it cooks and thickens.
Remove the saucepot from the heat. Stir in the cheese and season with salt and pepper to taste.
Pour sauce over assembled dish, sprinkle with cheese and bake for 45 minutes or until the Moussaka is bubbly and golden brown.
Remove from oven and let Moussaka rest for at least ½ hour before serving.
Serve hot or warm.
Cynthia
Around the Web